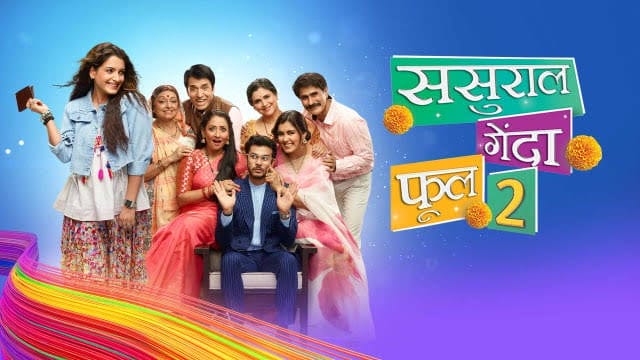 Sasural Genda Phool 2 Spoilers, Upcoming Story, Latest Gossip , Future Story, Latest News and Upcoming Twist on tellyexpress.com
The Star Plus's popular Television show " Sasuraal Genda Phool" is back with season 2. The show premiered in Star Bharath. The show now focuses on Ishaan lies to his family Titles is his girlfriend and trying to hide from Titlee's background.
In the previous week we have witnessed, Eilesh returned to home injured family members worried about him and enquired to him what happened? He narrated to them the situation. Disha feared those goons were beaten him for not paying the amount on time. Another side Ishaan shared to Titlee their marriage was called off. Titlee said to him that it was a simple work to made his family members are her but whatever she done Badi Maa didn't hated her at all. Ishaan praised Titlee's acting skills and asked her to try in Bollywood she asked him to try too. She felt unhappy to hear she don't wanted to pretend like his girl friend anymore. Server accidently spilled the coffee on Titlee but he saved her and scolded the server. Titlee helped him to wipe the coffee and blown it. Both Titlee and Ishaan danced in marriage and gave their send off. Ishaan heard Eilesh and Rajini were discussing about the thugs visited their coffee shop and learnt from them what actually happened there. He thought Titlee may helped them indirectly. Meethi blabbered to Dada ji about his missing matter. He felt bad for hurting his family members by his memory loss. Shailaja comfort him and consoled him. Jagdeesh got drunken and crested problems with Titlee for money. She refused to give money to him so he beaten her she fainted. Soda and Nimbu found Titlee was sick and informed this matter to Ishaan when he called her casually.
Ishaan enquired to kids about her state but they confused him and demanded him to come asap. Meethi noticed Badi Maa serving to all and said it seems Badi Maa understood Ishaan will move out soon that's why she didn't bring plate for him. She got hurt and left from there crying. Indar scolds his daughter for hurting her. Kids forced Titlee to go to hospital but she denied it reasoning she was a super hero. They teased her. Ishaan came there and enquired to her what happened came to his own guess she was caught red handed while stealing. He nursed her she felt falling for his care so pretended like angry on him and kicked him out of the house while threw things on him. He apologized to her and said to her he was here to help her but she ignored him. Meethi said to her dad moving out was not a crime it's common in foreign. He said to her he will miss his brother. Rajini informed to them they don't need to worry about it because Ishaan called off the wedding. Everyone got happy to hear it later got disappointed hearing he won't marry again. Ishaan met Soda and asked him to take care of Titlee. Titlee's friend came to meet and misunderstood Ishaan created the mess. She narrated the scene to him he felt Titlee changed a lot. Titlee worried about Ishaan and reminded her moments with him.
Ishaan thought why did Titlee behaved harshly with him doesn'the was helping her but why did she lashed out at him. Layer he convinced himself she may done it in pain. Deva Bhai enquired to Jagdeesh about the stolen money? He revealed to him that he failed to steal the money because he doesn't know where did she kept that money? Deva Bhaji beaten him and said he doesn't know to do a small work after Titlee left his account was empty no work going well. He demanded him to steal the money or else she will pay all money to him and stop working under him. He nodded to him. Ambarnath learnt about Ishaan's matter and confront Shailaja and Alok about it. She shared her grief to him and said just because of her wrong decision it was happened. Ambarnath consoled her. Titlee felt she was alone no one gonna help her. Ishaan came there she lashed out at him. He enquired to her about the thugs stop visiting Coffe shop matter. She accepted that she helped them without expecting anything back. Ishaan said to her she done this for him. He asked her to accept his friendship but she denied it reasoning she won't suit to his status and his character. He said to her he won't look at some e baground before making friendship. Jagdeesh came there she lashed out at him.
Ishaan noticed Jagdeesh there and listened to their Conversation and got stock to learnt he beaten her. Titlee stopped Ishaan and lashed out at Jagdeesh. Another side Meethi helped Ishika to choose one dress to meet her dating partner. She got disappointed when did Meethi mentioned Karan name. Ishaan said to Titlee what ever her dad done wrong to her he shouldn't beaten her. She said to him its her life he don't need to poke his head in her life. He tried to motivate her. Titlee shared to him what was the difference between their both life. She compared his good family background, money and education with her. She said to him yet father taught her to stay in dark and don't go behind the sun light. Ishaan said to her whatever her dad taught to you was wrong. She was Titlee she can even fly near sun and see it light. He motivated her but she said to him she can't able to become a friend of him. He understood that Jagdeesh was the reason for her state. Ishika met Karan in Mayank's place and lashed out at him. Titlee thought Ishaan may worrying about her. Avni came to home family members welcomed her and made her wait till Ishaan come. They gave space to them to talk. Avni and Ishaan discussed about Titlee.
Ishika returned to home angrily seeing her Avni left. They enquired to her what happened. She narrated everything to them. Ishaan noticed Titlee in his office earlier he enquired to him does she has any problems with her father? She said to him she had many problems. He gave final payment to her and asked her to count it but she said to him no need of that because he won't cheat the people whom trusting him. Ishaan tried to motivate her and leave her work. Titlee again said to him that he had an good family and many people were around him to love him unlike her. Meanwhile Rano confronted Ishika and learnt from her what actually happened in her life. She apologized to her for not helping her these many days. Karan came to home family members welcomed him and talked with him happily. Ishaan asked Titlee to come out of her past. She asked him to move on with Avni he stood there silent. He got an emergency call and checked the mail. Titlee asked him to check it reasoning she felt it wrong and left from there. He thought she deserved something big. Titlee got a message from him and got emotional she wished to do something good for him. Karan wished to meet Ishika but got hurt to hear her conversation with Rano. Meanwhile Titlee revealed the drama truth to Avni and asked her to make Kashyaps understand the situation of Ishaan and support him. Jagdeesh blabbered all truth to Inder in an intoxicated state.
In the upcoming episode viewers will see; Meethi will inform Kashyaps that Titlee is not Ishaan's real girl friend. She will add that Ishaan was acting in front of them and pretended like girl friend and boy friend to fool them. Rano will say she know it Ishaan won't fall for such type of girl. Badi Maa will think what's the need to act like this in front of all why did he made everyone fool here? Ishaan will come there.
What will happen next?will Ishan make them understand his situation? Will Ishan fall for Titlee?
Upcoming episode will answer to our all questions stay tune with our space for more updates.