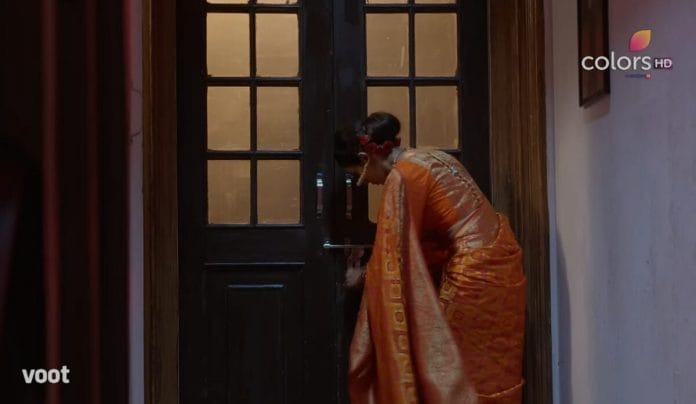 Spy Bahu Upcoming Story, Latest Gossip , Future Story, Latest News and Upcoming Twist on tellyexpress.com
Colors TV show Spy Bahu is now getting popular as Sejal enters Nanda house as their daughter-in-law. Sejal married Yohan taking advantage of him being unconscious and is trying to make her place in the house. Sejal continues her mission as spy Bahu with hope to find evidence against Yohan. Meanwhile Farid disguised as Avishek has also entered Nanda house by marrying Drishti and is working on a plan of his own. Yohan wants to prove that he was forced into the marriage and is planning for the same. What will Sejal's entry into Nanda house lead to? What secrets are going to come out?
Yohan picked up Bamba and asked if he is hurt? Bamba recalled meeting Yohan and recognizes him. Yohan remembered Bamba and asked where are his parents? Bamba told Yohan he wanted to give Sejal her quilt as she cannot sleep without it. Sejal returned to Nanda mansion and told Alisha she will have to go outside her and Yohan's room. Yohan told Bamba he cannot meet Sejal now as it's late and Sejal might have fallen asleep. Bamba kissed Yohan and told he wanted to give it to Sejal and asks him to pass it to Sejal. Yohan told that won't be possible. Bamba told he won't eat until Yohan sends him a picture of him kissing Sejal. Alisha is about to throw Ambe Maa's picture but Sejal holds Alisha's hand and bends it and warned Alisha to stay away from her Ambe Maa or she would do something bad. Yohan told Sejal to leave him alone with Alisha. Sejal noticed Yohan getting uncomfortable with Alisha and left thinking Yohan would get troubled by Alisha soon. Alisha tried to seduce Yohan but Yohan tells her there is a line we cannot cross and leaves her.
Sejal went to the secret basement and tries unlocking the door with Yohan's keys. Avishek came there and Sejal dropped the keys in shock. Avishek put the real key and told Sejal to let him guess as policemen have nice guess. Avishek unlocked the door and keeps the original key with him. Sejal entered the room and finds nothing except some dust and a wire. Flashback showed Avishek emptying the basement during reception. Sejal understood from gunpowder and wire in the room that Yohan shifted bombs. Yohan found Sejal in the corridor and asked her what is she doing here? Sejal acted like she is sleepwalking and Yohan helped her get back to the room. Yohan puts Sejal in bed and removed her sandals and spects. Yohan gave Sejal the quilt Bamba gave for her. Sejal woke up and got emotional on finding her quilt and recalled her memories with her family. Yohan glt a text a from Bamba that he would eat only after receiving a pic from him. Yohan clicked a picture of him kissing Sejal.
Keep checking this space for latest updates on your favorite shows.