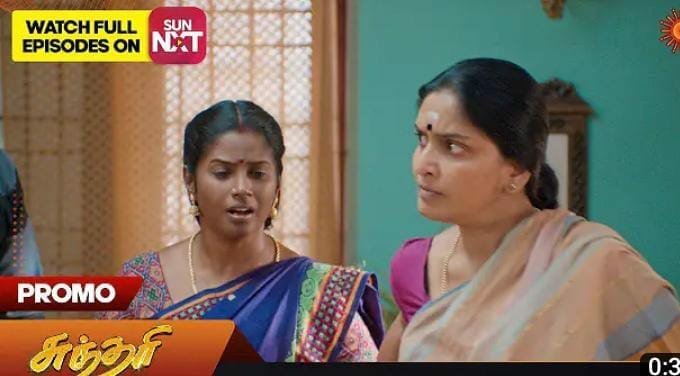 Sundari Upcoming Story, Spoilers, Latest Gossip, Future Story, Latest News and Upcoming Twist, on TellyExpress.com
Sun Tv popular show Sundari keep entertaining it's audience with the gripping story line. Now series focuses on Sundari lost her eye sight. Karthick to argue with Anu
In the recent episode we see; Sundari asked Valli to give permission to her to do the surgery. Valli complained to Sundari that she was going against her decision.
Sundari complained to Valli that she didn't offer good education to her. She didn't supported her in dreams. She forced her to marry her.
She didn't denied her words. But she wanted to do this surgery. Valli assured her that she will support her in every decision of her. Sundari hugged her in happiness. Later, Mallika shared with Anu that Sundari agreed to do the surgery. Anu said to her Sundari was creating a drama.
Mallika asked her to stop creating a issue. Meanwhile, Shankar reached to home and learnt from Sundari. Karthick didn't stayed with her at home. He got angry and decided to reveal the truth to Murugan. Sundari tried to stop him.
In the upcoming episode viewers will see; Karthick will return to Sundari's house. Shankar will demand Karthick to don't step out of this house until the Pongal function end.
Karthik will be shocked to hear it. Meanwhile, Pooja will play hide and seek game. Sundari will join with them and blind fold herself. Valli will give a warning to everyone for treating her daughter like blind.
What will happen next? Will Sundari reveal the truth to Murugan?
When will Anu find out Karthick's secret?
Upcoming episode will answer to our all questions stay tune with our space for more updates