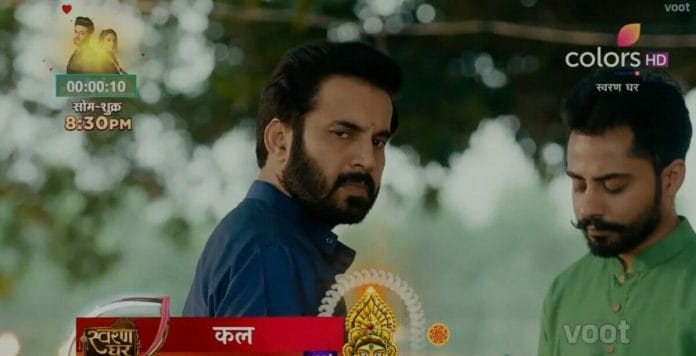 Swaran Ghar Upcoming Story, Latest Gossip , Future Story, Latest News and Upcoming Twist on tellyexpress.com
Swaran Ghar depicts the emotional turmoil and rollercoaster journey of an aged widow mother Swaran on ColorsTV and voot app. Currently we are seeing that Bebe suggests Swaran to reconsider her decision. Swaran meets Vikram at police station where he shows his disappointment in Swaran. Swaran longs to meet Ajit. She and Arjun go to Ajit's dhaba for having coffee. Ajit gets heartbroken seeing them together.
In the previous episode, Swaran wanted to contact Ajit but could not as her phone was not working. Bebe suggested her a way to fix her phone. Swaran apologised to Bebe for misbehaving with her that day. Bebe said that neither Swaran nor her was wrong that day. She asked Swaran to think again and take a decision solely for herself.
She spotted Ajit's tiffin box with mitti churi in it and realised that Ajit came there. She ate the mitti churi, smiled as Ajit had not changed. Swaran thought that she could not afford to lose Ajit's friendship as his friendship was the reason for her surviving. Bebe thought that none not even God could not take away the place that Ajit had in Swaran's life.
Ajit, Swaran heard Tanha aka Arjun's show. Ajit realised that Arjun was deeply in love with Swaran. Swaran met Vikram at jail and tried to convince her to apologise to the victims. Vikram didn't listen to Swaran. Swaran left. Bebe informed Ajit about Arjun's proposal. Ajit said that he was aware.
She asked Ajit to keep patience and have faith in destiny and Swaran. Swaran met Arjun. She kept talking about Ajit. They went to Ajit's dhaba to have coffee. Ajit's hopes got crushed seeing them together.
In the upcoming episode, Swaran, Ajit keep looking at each other. He feels bad seeing Swaran smiling at Arjun. He serves the coffee to Arjun who praises it. Arjun asks Swaran to take a sip from his glass. Swaran drinks the coffee. Ajit feels jealous. He breaks Swaran's glass in anger.
Will Ajit lose Swaran? Will Swaran choose Arjun over Ajit?
To know stay tuned to Swaran Ghar on ColorsTV/Voot app and this space.