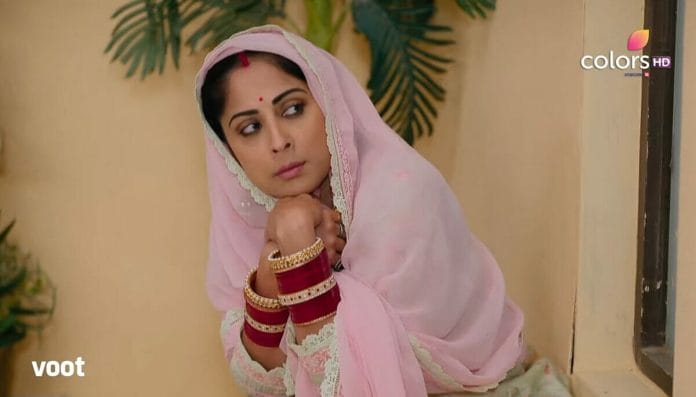 Swaran Ghar Upcoming Story, Latest Gossip , Future Story, Latest News and Upcoming Twist on tellyexpress.com
Swaran Ghar depicts the emotional turmoil and rollercoaster journey of an aged widow mother Swaran on ColorsTV and voot app. Currently we are seeing that Chandni outsmarts Saroj and teaches her a lesson. Swaran meets Nakul and gets emotional. Swaran shows her gratitude towards Chandni and compares her with God.
In the previous episode, Saroj brought register and looked for Swaran. Chandni applied mehendi on her hands to escape the situation. Saroj wanted to remove the mehedi but Bebe stopped her. Swaran arrived at hospital. Register was about to come face to face with her. Neelima collided with him and blocked Swaran. Register failed to see Swaran and left. Bebe asked Chandni to go to Gurudwara with her so that Swaran could take her place.
Saroj stopped them and asked Chandni to stay there till she come back from the canteen. Yug saw Swaran coming and hid her. Saroj went to canteen. Chandni also left. Swaran met Nakul and got emotional. Kiran apologized to her. Vikram had a change of heart. Saroj spotted Chandni at market and followed her. Chandni noticed that. Saroj was about to faint.
Chandni came there wearing a burkha and gave alcohol to Saroj in place of water. Saroj returned hospital and scolded Swaran for not obeying her orders. Swaran got clueless. Saroj failed to find any proof to accuse Swaran.
Chandni complained about Saroj to nurse and harassed her. In state of intoxication Saroj noticed Chandni. Swaran met Chandni. She thanked her for everything. They witnessed a prabhat pheri. Swaran called Chandni her God.
To know what happens next stay tuned to Swaran Ghar on ColorsTV/Voot app and this space.