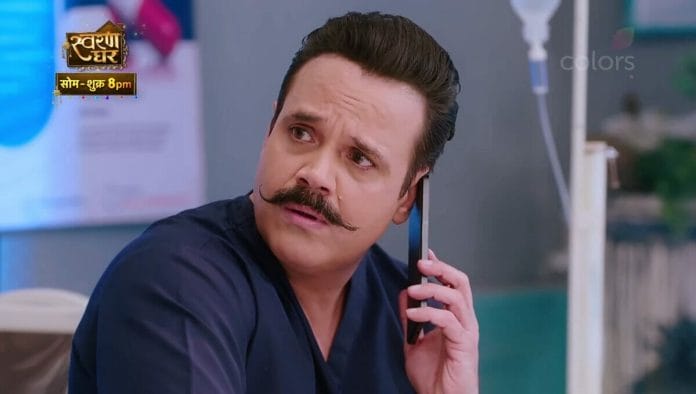 Swaran Ghar Upcoming Story, Latest Gossip , Future Story, Latest News and Upcoming Twist on tellyexpress.com
Swaran Ghar depicts the emotional turmoil and rollercoaster journey of an aged widow mother Swaran on ColorsTV and voot app. Currently we are seeing that Chandni teaches lessons to Saroj, Balli. Police search for Chandni everywhere. Swaran makes a plan.
In the previous episode, Swaran got happy tears seeing Ajit. She fed him the dish. Jai gave credit to Swaran for Ajit's progress. He asked Swaran if police had come again. Swaran said no. She said bye to Ajit and promised him to come again next day.
At Swaran Ghar, Chandni hid the jewlery that she stole earlier. Police arrived at Swaran Ghar and looked for Chandni. Saroj got clueless. Chandni hid herself. She recalled Swaran's words and prayed to God for help.
The police left as they didn't have lady constable with them. Chandni got relieved. Swaran reached hospital to meet Nakul. Nurse informed her about Balli and asked her to meet him. Swaran met Balli. Saroj complained about Swaran to Balli over phone.
Balli cut the call and questioned Swaran regarding the same. Saroj called him again. Balli told Saroj that he was scolding Swaran for troubling Saroj. Saroj asked him how can he scold her when Swaran was at Swaran Ghar. They both got confused.
Swaran told Balli that Saroj got drunk earlier that day. Balli said that he will find the truth after returning to Swaran Ghar. Swaran came out of his cabin. She got worried and gave a plan to Yug.
Balli returned Swaran Ghar with Saroj. Saroj called Swaran to do the Aarti. Chandni intentionally burned Balli's finger by dropping the diya. Balli screamed in pain. Chandni called it unintentional.
Saroj applied medicine on his wound. Chandni served alcohol to Balli when he asked for water. She said that she was scared. She told Saroj about moving her luggage from Bebe's room to Balli's room. Balli lost his calm and questioned her for this action.
To know what happens next stay tuned to Swaran Ghar on ColorsTV/Voot app and this space.