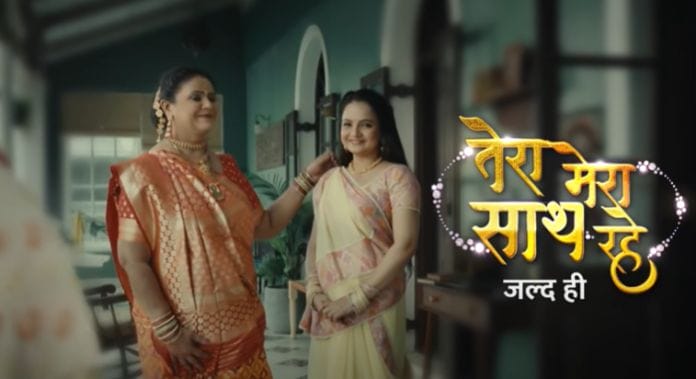 Tera Mera Saath Rahe 10th May 2022 Written Update on TellyExpress.com
The episode starts with Munna asks his friends what they did to Mithila. His friend in drunken state says that Mithila will die in thirty minutes. Mithila gains her consciousness and wonders where she is. She struggles to get rid off the tank. One men comes there and asks the other men whether the water tank is cleaned yet or not. The other men says that he cleaned it also painted it so once the paint gets dry he can fill water with the tank.
Mithila hears it and says that means she is inside a water tank so seeks God's help. Saksham and the family members goes to where Munna is. Saksham starts beating Munna and demands him to tell him where his mother is. Gopika asks Saksham to calm down saying that she will talk to Munna and questions Munna about Mithila's whereabouts. Munna says that he doesn't know where she is. He asked his men to abduct Mithila because he want to give pain to the Modi's which they gave to his mother.
Everyone gets shocked. The water starts filling inside the water tank where Mithila is. Mithila seeks God's help and wishes both Saksham and Gopika to find her soon. Gopika gets angry at Munna. Munna tells his friends misunderstands his words. Gopika tries to wake up Munna's friends but fails. Munna recalls his friends words and tells the Modi's that his friends told his Mithila is in chawl. Gopika urges everyone to go with her.
Saksham goes to the terrace in which one of the tank Mithila is. He starts shouting maa. Mithila overhears it but fails to get his attention due to the water pouring inside the tank. Saksham goes near the water tank where Mithila is and calls out but gets no response so in frustration he kicks the paint and leaves the place. Gopika says everyone they cant able to find Mithila. Saksham tells if anything happen to Mithila then he will die for sure.
Subhadra tells Munna that this is all happening because of him only so its him who need to find and save Mithila or else she won't forgive him ever. Gopika sees a guy carrying a bucket of paint. She recalls Munna's friends has paint on their face and shirt so she alerts the family members that Mithila should be in where the blue paint is. Saksham tells that he saw the paint in the terrace. They all runs to the terrace followed by Subhadra and Munna. They all starts searching for Mithila. Gopika sees the blue paint in one of the water tank. She puts her ear near it and hears the sound from inside and says the family members Mithila is inside.
Everyone gets shocked. Gopika starts hitting the tank with a rod in her hand. Saksham struggles to open the lock of the water tank. The family members joins Gopika and hits the water tank with the rod they have. Saksham opens the lock of the water tank. He gets shocked seeing Mithila is inside unconscious. They brings her out of the water tank and tries to wake her up. Mithila gains her consciousness and the family members gets relived.
Munna tells that he wont spare the one who put Mithila's life in danger. Subhadra slaps Munna and says that he is the reason behind Mithila's state so he has to stop accusing other's and slaps him more. She also blames herself for blinded by the haterness and supported Munna in his decision and pushes him from her. Munna slips and falls from the terrace. He held a near by wall tightly.
Saksham Chirag and Gopika urges to where Munna is. Both Saksham and Chirag tries to bring Munna up. Munna asks them to let him die as he don't deserve to live after what he did to them. Saksham refuses to leave his hand saying Subhadra and Gopika needs him. They pulls him inside the terrace. Everyone gets relieved. Munna hugs everyone. He then apologises to Mithila for what he did to her also asks her to punish him. Mithila tells his punishment is that he has to be part of their family. Munna tells Gopika that they can go to their house Modi Bhawan and he and his family will return to the chawl and apologises to her for his behavior. Gopika tells his punishment is that they have to stay in the Modi Bhawan together.
Munna agrees. He then says that he and Subhadra have some important work after finishes they will return and takes Subhadra with him. The Modi's comes to the Modi Bhawan. Gopika gets happy and thanks God. Both Saksham and Gopika enters the house followed by Mithila Minal Ashi and Chirag. They all looks at each other with a smile on their face. Saksham tells after all the troubles they went through finally they get what they want.
Precap: Mithila prays God to protect her family members happiness. She walks away but the Diya goes off. Chirag asks Keshav to come with him to the storage room. Saksham Keshav Munna and Chirag goes there. Keshav asks Saksham what is written in the letter. Saksham reads the letter loud iin which it states that whatever gift inside the box is belongs to one of them. A little girl slowly comes out of the box. Saksham looks on confused.
Click to read