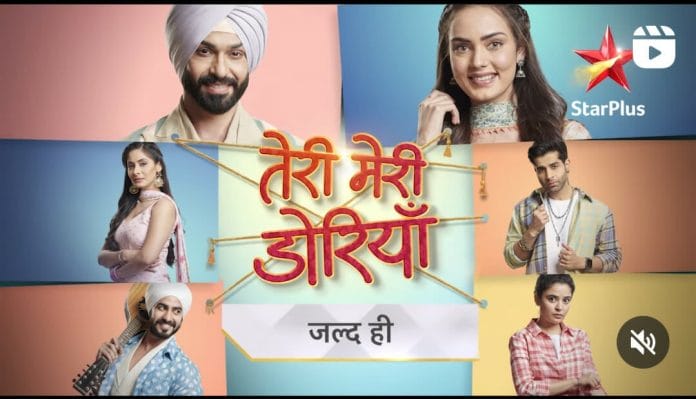 Teri Meri Doriyaann 13th January 2023 Written Update on TellyExpress.com
The episode starts with Akaal calling Angad to the stage. Garry smiles seeing the lady reporter. Jasleen notices Garry and advises him to focus on his aim and don't run behind girls. Garry says he is just seeing. Jasleen says life is giving you change and Angad didn't go to the stage so go to the stage and pretend that you did everything. Garry says I'm coming Dada ji. He enters the stage. The media covers him. Santosh asks who is he. Seerat says don't know but he is handsome and stylish. Garry introduces himself and praises his grandparents. Guest discusses where is Angad. That time Angad enters the venue with dhol people and golden hands.
Angad takes the mike, he says it's the moment Grandfather married Bebe and hold her hand and we have to save memories that's why I have tried to preserve a loving memory of my grandparents and these golden hands are my grandpa and Grandma's hand replica. He gifts it to his grandparents and tells them it's from their whole family. Akaal and Bebe thank him. The reporter says it's a unique gift. Angad asks Garry to hold it.
Angad shares his past moment with Akaal. He says Akaal changed his view. He announces Garry and Veer are working hard along with him for celebrations. Everyone claps. Seerat doesn't like seeing color on Angad's sherwani. Angad announces very soon they are going to enter real estate and we are going to build India's biggest mall which will be named 'The Brar Avenue'. Everyone claps. Angad announces Veer Singh Brar will lead the project. Garry and Jasleen feel disappointed. Angad calls Veer to the stage.
Garry covers his disappointment. Veer enters the stage. Angad hugs him. He asks guests to enjoy the food. He says don't take off eyes from the stage because there is going to be a lot of fun on stage, we have organised a Giddha competition, and ladies can participate in it and celebrations will start with Veer's performance. He asks Ladies to register their names if they want to participate in the competition and the winner will get a gift.
Akaal and Bebe see Inder's shadow. Akaal leaves. Bebe calls Inder out. Inder wishes her happy anniversary and gives her pendant. Akaal feels bad. Santosh tells Seerat that she has to marry one of the Brar's to enter the richest household. Seerat asks what she has to do. Santosh says you have to win the competition to gain the attention of the Brar family. Seerat says she doesn't know about Giddha dance. Santosh takes Seerat aside and asks her to learn by showing the video. Garry messages to lady report. Reporters cover Angad and question him why he wore stained sherwani? Garry smiles seeing the reporter. Angad says no comments. Garry sends him to change his dress.
Angad thinks he gets angry with Sahiba's thoughts. Sahiba collides with him but he doesn't see her. Kirat takes Sahiba aside and tells her how their mom insists to participate in Giddha. Sahiba goes to meet them. Santosh requests Seerat to use the opportunity. Sahiba comes there and asks Santosh to stop forcing Seerat to impress Brar. Seerat asks how she came. Santosh says glad you come so please make Seerat learn the Giddha to impress Angad. She requests Sahiba. Sahiba agrees.
Episode ends.
Precap – Seerat performs on stage seeing Sahiba. Angad joins Seerat on the floor. Sahiba notices a nail on stage and she rushes to take it. She takes it before Seerat steps on it and Seerat falls in Angad's arms. Angad stops Sahiba and confronts her why did you come back? As morning you swore never to come back. Sahiba asks him to stop talking nonsense. He asks her to be quiet.
Sahiba says im quiet and not shouting like you and those who are usually wrong yell in the top of their voice to sound convincing but the truth is it makes them look like idiots. She asks Seerat if she is fine. Seerat says whatever your name is, I'm fine. Please leave and don't create a scene. Santosh says why don't you leave when they are telling you. Sahiba is taken aback.
Click to read