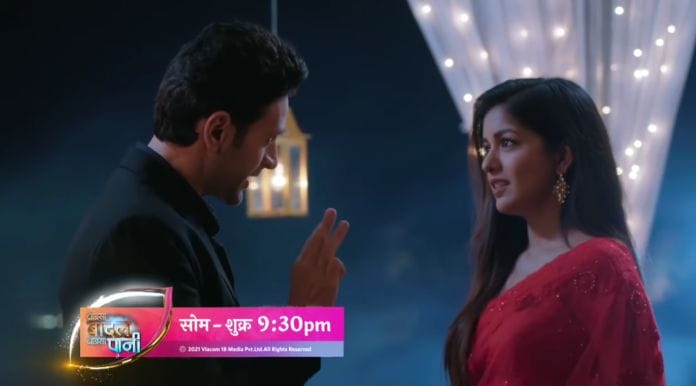 Thoda Sa Baadal Thoda Sa Paani 4th February 2022 Written Update on TellyExpress.com
The episode starts with Priyanka crying and her mom asks her what she will do now. Priyanka says everything is finished. She needs some time to think seeing Anurag's state. Her mom says if she doesn't decide anything, Anurag's family will ask her about her marriage with Anurag. Kajol talks to unconscious Anurag that he will be better soon, she is with him always. Sharmila calms Dida as the latter is panicking. Dida says Anurag's haldi ceremony has happened and now marriage is left so they have make lot of preparations. Kajol assures Dida that Anurag will be fine. Anurag's father arrives and Dida scolds him for being late and also asks him to give his best in order to cure Anurag as he is also a doctor. Kajol sends Pisima and Apu back. Dida asks Priyanka she is a doctor so will she cure Anurag?
Dida says that Priyanka loves Anurag so she will not lose hope. Priyanka reveals that she didn't love this disabled Anurag but she loved the healthy Anurag. Anurag can't walk anymore that's the truth and all the doctors are telling the same. Dida gets shocked hearing her words. Priyanka says she can't marry Anurag now and can't deal with his disability whole life. Dida curses her saying how can she talk like this. Her love was fake for Anurag. Kajol handles Dida and tells her to give some time to Priyanka as the latter is upset too. Priyanka shuts Kajol up saying why she is giving false hope to Dida?
Priyanka adds she doesn't believe in superstitions but she knows Anurag won't be able to walk now. They should accept the truth too. Kajol shouts at her that Priyanka doesn't deserve Anurag as she wants to leave his side in difficult times. Kajol says Priyanka was ready to give her life for Anurag then why she is behaving like this. If this accident happened after marriage then what would she do. Anurag wouldn't have left her if she was in his place. Kajol regrets for not fighting for her love and for leaving him.
Priyanka blames Kajol for ruining her relationship with Anurag. Priyanka says Kajol must be happy now. Sharmila says Priyanka should learn something from Kajol as the latter sacrificed a lot for Anurag. Sharmila says Priyanka failed in this test badly. Her love was a show off. Sharmila tells Priyanka and her mother to leave. Kajol tells Dida and Sharmila to be there for Anurag as he needs their support.
Apu opens the door and his mother and Bulti enter. Bulti says she wants to meet Anurag. Apu reveals Anurag somehow got saved but he can't walk anymore. Bulti starts crying hearing that. Apu says Bulti can't see her brother in that state. Anurag's family talks about Anurag's physiotherapy. Kajol gets emotional and recalls her memories with Anurag. She gives him strength that they need to be strong and she will make him better soon. The wardboy comes to change Anurag's clothes. Anurag's father says Anurag will use wheelchair now and they need to make space for that in his room. Its a new phase of their lives. Kajol says they should not give up. They can help Anurag to be better. Anandita taunts Kajol saying she should stop interfering in every matter.
Episode ends
Click to read: