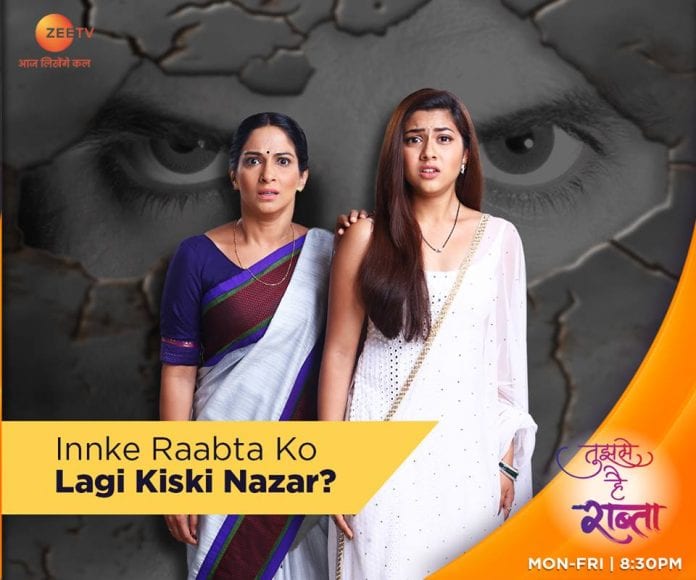 Tujhse Hai Raabta 11th February 2021 Written Update on TellyExpress.com
Episode starts with Shera asks Tony to take Avni to their place while she is putting the cash bag in dustbin to get info from her what's she hiding. Tony says ok but when she will come. Shera notices Avni is coming with bag and asks Tony to get ready. Tony goes behind Avni to make her Unconscious but Avni men came in van and closes Tony mouth and takes him to their place. Avni gets new SIM from her Men. Shera gets shocked and thinks where is Avni hiding them.
Kalyani and Aaosaheb asks Anupriya to open the door. Anupriya says she didn't closed the door and windows also not opening. Kalyani notices new key hole and shows to Aaosaheb. Aaosaheb says who might did it. Sarthak comes to them and says he changed the lock pattern. Kalyani says you don't want Aayi to attend meeting that's why you're stooping this low. Sarthak says everything is fair in love and war. Anupriya in tears says only 5minutes left for conference.
Sarthak says Anupriya don't fell down in tension. Kalyani says Aayi you can do with out my help too, just rehearsal the speech i prepared for you. Anupriya gets the paper and shocked seeing new speech paper saying good noon Idiots and tells it to Kalyani. Sarthak says it's written by Avni and he praises Avni plan.
Kalyani asks Anupriya to remind their practice. Anupriya breaksdown saying she can't attend it without her help. Kalyani says Sarthak and Avni are laughing at us, prove to them that they are wrong. Aaosaheb says Anupriya you can do it. Kalyani asks Anupriya to on the laptop saying investor may wait for us.
Anupriya opens the laptop. Kalyani and Godavari feels happy seeing Anupriya attending the conference through their phone. Anupriya talks to investors in Hindi and expresses her opinion Infront of them. Sarthak asks Avni to open the lock. Avni gives keys to Kalyani. Investors gets impressed with Anupriya presentation skills. Kalyani opens the door. Anupriya happily hugs Kalyani and Aaosaheb and tells them that she got confidence and I won't lose this time. Kalyani says she is happy to see her confidence.
Sarthak says it's tough for you to get contract. Aaosaheb receives call from Patil and she anounces to Sarthak that they got 500 sarees order. Kalyani and others feel happy. Sarthak and Avni leaves. Aaosaheb says they have to ready 500 sarees in 2 days. Anupriya says they can do it. Workers asks for more material. Aaosaheb says it will come. Kalyani asks how can they get money. Aaosaheb says I will sell old furniture for my kids future. Kalyani happily hugs her.
Shera reaches to vehicle place in which Goons take Tony, he enquiries Chana seller if he saw Tony. Chana seller tells how 2men take Unconscious Tony with them. Shera thinks to know Tony location from Avni.
Click to read: