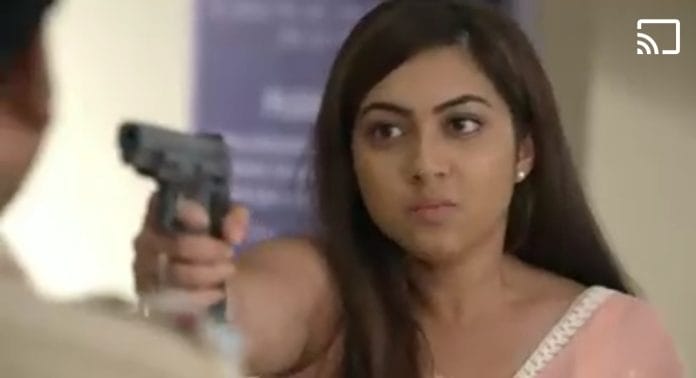 Tujhse Hai Raabta 24th December 2020 Written Update on TellyExpress.com
Episode starts with Moksh escapes with Kalyani and reminsces how Anupriya advised him to escape. Sarthak scolds Avni saying he believed her plan thinking Kalyani image gets spoiled but now if Kalyani gets Moksh they will escape from here so search them. Avni says Kalyani can't gains conscious easily because if medicine. They searches for them. Moksh hides noticing Sarthak and Avni.
Moksh tries to wakeup Kalyani. Kalyani slowly gains conscious and asks how they reached to this place than through tea seller phone Kalyani tries to call police but she lost her conscious again. Moksh gets worried. Tea seller wakes her throwing water. Kalyani says police in her inebrieated state. Avni comes to that place and tells to tea seller that Kalyani is her sister and takes their help to take Kalyani to home.
Avni makes Kalyani sit in the mandap. Sarthak tells he can't see this and goes inside asking them to tell once marriage gets completed and asks where is Moksh. Avni says in room but Moksh struggles in car and prays Bappa to save his Aayi. Pandit asks Manohar to tie Mangalsutra.
Avni asks Manohar to make Kalyani wear the mangalsutra. Manohar about to tie but some masked men stops the marriage shooting at Manohar leg. Avni and Aaosaheb gets shocked. Masked men takes Kalyani and asks Manohar to arrange 20lakhs to get Kalyani. Avni asks him to leave Kalyani but he scares her with gun and escapes with Kalyani. Moksh sees someone is taking her Aifi and gets worried. Masked men removes his cloth from his face and he is exactly looks like Malhar. He makes Kalyani sit in the jeep and leaves with her from that place.
Sarthak gets shocked seeing everything and asks what happened. Avni says some masked men Kidnapped Kalyani and explains Sarthak everything. Sarthak asks who is that person. Avni says his face is covered. Sarthak asks her to take Manohar inside and he calls for Doctor.
Jeep gets stopped in the middle. Malhar look alike checks the problem. Police came to Swara Nivas and asks Sarthak that they got info that some girl is forcefully married to older men at this ace. Sarthak says info is fake. Inspector says than what about this Mandap? Where is Kalyani Mam? I received call from her and it's shown how she gave info and he calls to same number. Malhar look alike attends the call while taking Kalyani with him and cuts saying wrong number. Lady recognises Malhar and asks if he is fine.
Click to read: