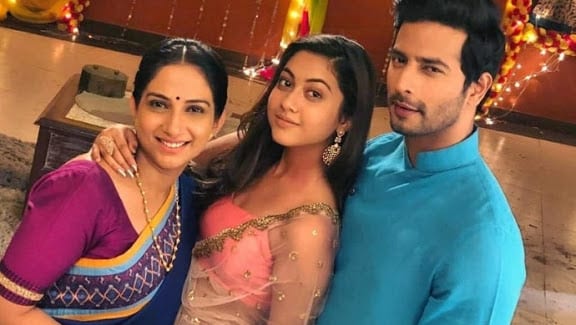 The episode starts with Kalyani treating Ranchith's wound and he winces in pain. Kalyani mocks him for being a baby. He says that her husband is a super cop and teases her back for fainting for a drop of blood. They both have nok jhok. Malhar just admires them. Anu brings water for him but he denies saying that he's from United States and this water doesn't suit him. Kalyani teases him for behaving like a princess. They hear Billu cry and Kalyani and Malhar rush to him.
Malhar has calmed down Billu and hushes Kalyani. Kalyani fight with Malhar to remove his shirt for applying medicine. But Malhar denies. In their fight Kalyani tears his shirt and apologizes. He asks her to proceed with the treatment. She removes the band aid and gets pained seeing his wound. They both gets romantic and someone watches it hiding. Their romance gets interrupted by Billu's cry and they smile.
Anupriya asks Ranchith to leave after having food. He agrees. Swara's father misunderstands Ranchith to be Swara's groom but soon gets it cleared. Malhar asks is it a good decision to get swara married so soon. Swara's father is adamant and swara supports him. She says that all she wants now is her father's happiness. She runs inside and Kalyani and Malhar follow her.
Ranchith says that he can help them. He says that his Alexa will help him in finding the groom. He says that he has so many efficient employees in his company who's unmarried and he get their profiles short listed for them. He speaks to the microphone Alexa who answers all his questions. He says Alexa is like his personal secretary. Dadi asks Alexa to clean the room and everyone laughs at it. Atharv to plays with it.
Malhar is consoling a distressed Swara and Kalyani supports him. He asks her to not hurry with marriage decision. Swara says that how can she forget him and cries in his arms. Someone once again watches it hiding.
Kalyani, Malhar and Atharv drop Ranchith tp his car who asks Kalyani that is she not watching her first day first show movies anymore. Kalyani says that she has left all that and Ranchith leaves. Someone takes a picture of Kalyani hiding.
Dadi sees Anupriya missing Sarjat and asks her to forgive him. Kalyani says Papa that Ranchith has sent her a lots of profile and they need to select one for swara. Malhar comes there. Papa leaves but then comes back and praises Malhar. They share an emotional moment.
Kalyani gets hit by an arrow and she thinks its by Atharv. She goes to scold him. Malhar notices a pen drive with the arrow and takes it. He plays it in his laptop while Kalyani is still searching Atharv outside. He gets shocked seeing all the pictures of Kalyani which the stalker shot hiding. He gets tensed.