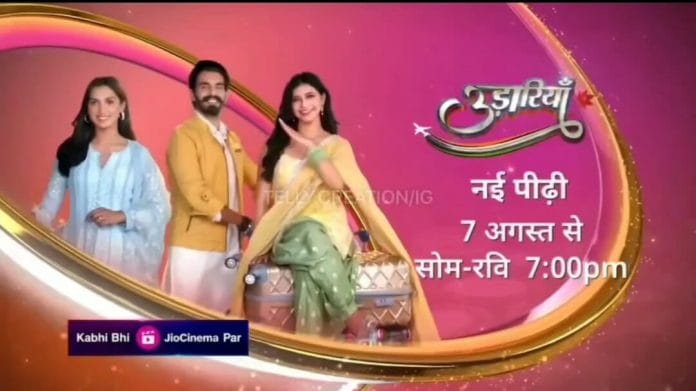 Udaariyaan 10th November 2023 Written Update on TellyExpress.com
Episode starts with Aasman telling Ekam that whatever Harleen did is very wrong but she never knew that her negativity would snatch away her own daughter's happiness. He says that he is very ashamed of what Alia did but doesn't want to talk about it. Ekam says that from today she has two fathers so she must not feel alone. Armaan runs behind Aasman. Deepak asks him to leave but Armaan requests him to let him talk. Armaan says that he doesn't know how to make her believe . Aasman says that she doesn't trust him anymore and everything has ended since she has signed the divorce papers. He says that he hasn't signed the papers. He says that there's someone who's trying to hurt her so asks her to let her protect her. She says that he doesn't need to protect her anymore.
Aasman recalls Armaan's words and gets hurt herself and cries alone in her room. Armaan works at the Gurudwara while thinking about Aasman. Deepak asks Aasman what's wrong. Aasman says that there's a brutal war between her mind and heart. Her mind is saying that Armaan was never hers while her heart is saying that she will never be able to forget Armaan. Armaan prays to God and says that he would wait for the day when Aasman forgives her. Aasman works in the kitchen when someone tries to touch her from behind. As soon as she turns around, the person runs away. She gets a car from someone who asks her to get ready in the evening and they go to some place to have some fun.
Rano visits Deepak's place and distributes prashad from the Gurudwara. She apologises to Aasman for supporting Armaan. Aasman says that she understands why she did it. Rano asks her to forgive her. Aasman says that she has no hard feelings for her. She asks her to get back home and gives her first Diwali shagun. She requests her to go back. Aasman says that she is proud to be a woman and can't destroy her pride of being a woman with her own hands. Rano leaves. Armaan makes rangoli when Asmaan comes and asks her to put green colour in it. He smiles at her and keeps staring at her. Suddenly his halications breaks with Raja talking to him. He asks why he is making a rangoli since this is something that women do. Armaan says that he is making this for someone very special. Raja says that he has annoyed Aasman so she won't get to see it.
Aasman sits with the shagun in her room and recalls Rano's words. She also recalls the moments when Armaan and Alia lied to her. Then she keeps the shagun aside and looks at herself in the mirror. She recalls Rano's words that if she doesn't visit their house in Diwali then they wouldn't celebrate Diwali. Armaan tells Raja that Rano has said that Aasmaan would definitely come if not for him but for others. Episode ends.
Precap : Aasman visits Armaan's place.
Click to read