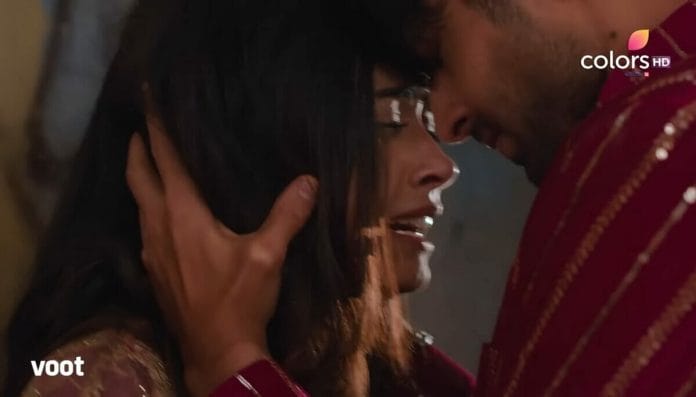 Udaariyan Spoilers, Upcoming Story, Latest Gossip , Future Story, Latest News and Upcoming Twist on tellyexpress.com
Colors' popular show Udaariyaan is gearing up for more drama, with Shamsher's goons kidnapping Ekam and Nehmat and fixing a time bomb to kill them.
Previously, it was seen that it was seen that Naaz's plan to create a misunderstanding between Ekam-Nehmat and Advait-Mallika by making Ekam-Mallika see Advait-Nehmat together failed. Later, Nikhil arrived at the party. Nikhil and Advait were surprised to see each other at the party.
Mallika and Advait were even more surprised to know that Nikhil was dating Naaz. Mallika became suspicious about Naaz's intention behind dating Nikhil and shared the same with Nehmat, who refused to believe her. Nehmat and Ekam were lighting firecrackers while the rest of the family went inside to have dinner.
Shamsher goons used this occasion and kidnapped Ekam and Nehmat. They took them to a warehouse. They fixed a time bomb to their chair. They started the bomb timer. They locked up Ekam and Nehmat inside the warehouse and left. Advait learned about the same and rushed to save them.
In the upcoming episode, it will be shown that Advait will try to break the warehouse lock to save Nehmat and Ekam. Nehmat will ask Advait to go away as the bomb can blast anytime. She will ask Advait to tell their families what happened to them.
She will cry. Ekam will cup Nehmat's face with his hand. Ekam and Nehmat will cry, merging their foreheads. Meanwhile, Advait will refuse to give up and will keep trying to break the lock. The warehouse will explode.
What happened to Ekam and Nehmat? Did they get saved or die?
Stay tuned to this space for the latest updates of your favorite Hindi shows.