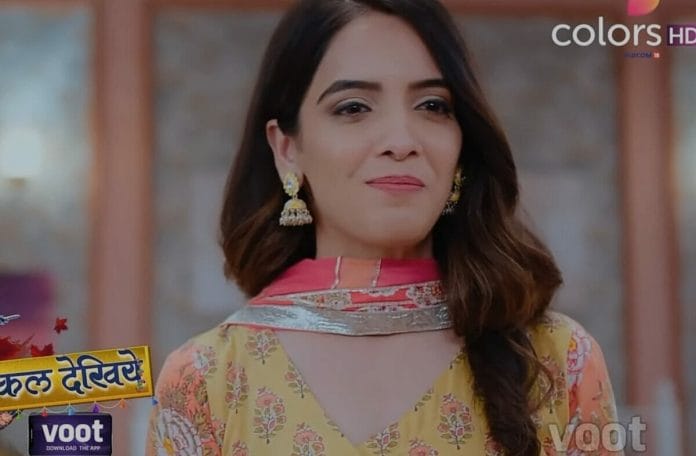 Udaariyan Spoilers, Upcoming Story, Latest Gossip , Future Story, Latest News and Upcoming Twist on tellyexpress.com
Colors' popular show Udaariyaan is gearing up for more drama, with Advait and Nehmat being forced to share a room in Shimla.
Previously, it was seen that Nehmat informed Ekam that she was stuck in Shimla due to the sudden landslide. Ekam asked if someone was with her. Nehmat lied that her colleague was with her. Ekam decided to go to Shimla and surprise Nehmat. After crossing many obstacles on his way and risking his life, Ekam reached Shimla.
Ekam decided to check in hotels to find Nehmat. Meanwhile, Advait and Nehmat were forced to share a room as there was only one room available in the hotel. Shelly spotted Nehmat and Advait, who were talking to the receptionist. She made a video call to Naaz and showed it to her. Naaz asked Shelly to record this.
Shelly obliged. Naaz wondered what was happening, whether Nehmat would become her sister-in-law instead of Mallika. In Shimla, Ekam reached the hotel in which Advait and Nehmat were staying. Ekam used his influence and checked the register.
He was shocked. There, in the room, Nehmat was expressing to Advait that she was feeling guilty for lying to Ekam and staying in the same room with Advait. Just then, they heard a knock on the door. Advait opened it and Mallika and Advait stood shocked.
In the upcoming episode, it will be shown that Jasmine will be talking to Naaz's photo and will say that Naaz has a sister too. In India, Naaz will find Nehmat's file.
She will see the newspaper cuts about Ekam and Jayveer and will learn that Ekam and Jayveer could be arrested. She will plan to create chaos using this
What will Naaz do? Did Ekam see Advait and Nehmat together? How will Mallika react after knowing that Nehmat and Advait shared a room?
Stay tuned to this space for the latest updates of your favorite Hindi shows.