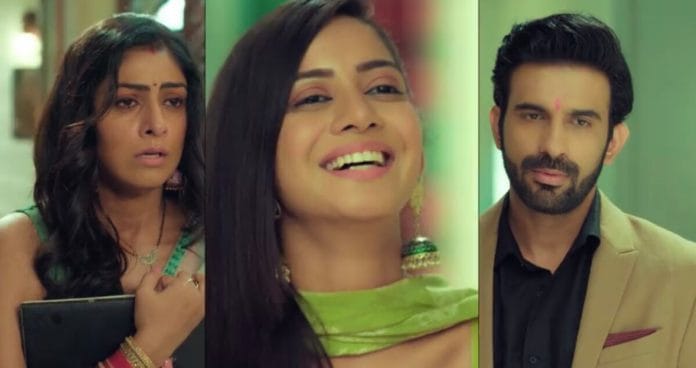 Yeh Jhuki Jhuki Si Nazar Spoilers, Upcoming Story, Latest Gossip , Future Story, Latest News and Upcoming Twist on tellyexpress.com
Star Plus popular daily soap Yeh Jhuki Jhuki Si Nazar is grabbing the attention of the audiences with its high voltage drama. The curiousity to know whether Dia will be able to save Brij or not, is keeping the viewers hooked to their television screens.
In the earlier episode, Armaan saves Dia from getting into an accident and takes her to visit Mathurs house. She becomes emotional seeing her father, while Armaan assures her to save Brij. Meanwhile, she makes Brij quit his job and gives an idea to start tutoring in their house. Whereas, Sudha returns back along with Armaan's childhood friend Saloni.
Here, Madhu instigates Sudha against Dia and prohibits Bhavna from telling about Brij's cancer to her. Armaan apologises to Sudha for not being able to pick her up, while atlast she forgives him. Armaan meets Saloni and she reminds him about their childhood memories.
Saloni enjoys her quality time with Rastogis and impresses them with her talks and handmade foods. She also gets into good books of Madhu, by praising her about her beauty. Meanwhile, Armaan thinks about Dia and gets worried for her.
Ahead, Dia sneaks inside Madhu's room to find Brij's medical report. She gets shattered seeing it but somehow controls her emotions. She then clicks pictures of the report in order to take advice from other doctors and hides it before Palki can see it.
Palki arranges for the students for Brij's tutoring classes. Whereas, she determines to save his life. He reminds Dia about her responsibilities as a daughter-in-law and ask her to go back to her house as Sudha also has returned from her trip. Palki hugs Dia to bids her adieu, while the latter's phone falls down.
Further, Brij was about to see his report in Dia's phone but she hurridly picks it up. Meanwhile, Sudha taunts Dia for not being there, to which Armaan apprises her about Brij's cancer. She gets concerned and decides to meet Mathurs but Armaan stops her. Saloni ask Armaan to make a wish and he agrees for it, while Dia gets shocked seeing their closeness.
Now in the upcoming episode, Saloni will meet Dia and shows her concern towards Brij. She will state that she will pray for her father, while Dia hugs her and shows gratitude towards her. Whereas, Anju will meet the doctor and he tells that they have to proceed with the surgery. He will state that it is a critical procedure and will cost high. Anju will ask about the price of the treatment, to which he tells that it will be around 20-25 lakhs rupees. Anju will get shocked, while the doctor says that they have to do the surgery as soon as possible.
Will Dia be able to save Brij?
Will Anju be able to collect the money for Brij's operation?
It would be interesting to see what happens next on the show.
Stay tuned with us for more news, Spoilers and written updates of Yeh Jhuki Jhuki Si Nazar.