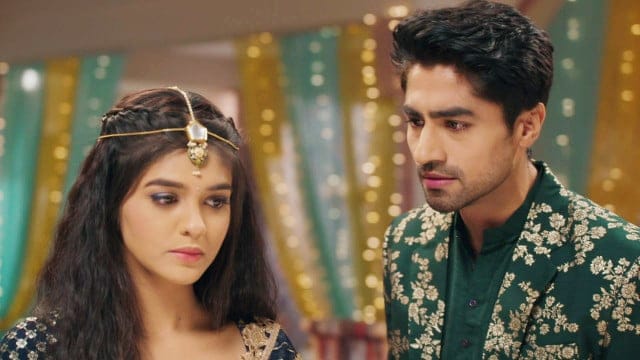 Yeh Rishta Kya Kehlata Hai 17th January 2023 Written Update on TellyExpress.com
In today's episode, Abhir think he lie to Akshara and Abhinav about missing football practice and came to meet Abhimanyu. He sees police. Abhir breaks the window of Police's jeep. Police confront Abhir. Abhir misbehaves with police. Abhimanyu comes for Abhir's rescue. Police arrest Abhimanyu for Abhir's mistake.
Akshara discuss with Muskaan about growing their business. Muskaan like Akshara's idea. Abhinav calls Akshara. He asks her to help Abhimanyu. Akshara refuse to help Abhimanyu and believe on him. Abhinav urges Akshara to help Abhimanyu as latter trust him and made a call. Akshara says to Abhinav that she will talk with someone who will help his customer. She refuses to directly help Abhimanyu.
Swarna talks with Manish about Abhimanyu and Arohi's marriage. Manish asks Swarna the need of the marriage. Swarna says for Ruhi's sake Abhimanyu and Arohi should marry each other. Kairav against Swarna's idea about Abhimanyu and Arohi's wedding. He claim Abhimanyu is not a good husband and he has proved he can't handle his relationship. Kairav says they can't spoil Arohi's life by getting her married to Abhimanyu. Swarna gets angry on Kairav for speaking against Abhimanyu and Arohi's wedding. She says just because he doesn't believe in marriage wants others to follow the same route. Kairav says to Swarna that she can think whatever she wants but he will stick against Arohi and Abhimanyu's wedding.
Swarna says to Kairav that he keeps dating and ruining his life. Kairav throws attitude to Swarna. Manish says to Swarna that by getting Arohi married to Abhimanyu they will ruin both of them life. He claim Abhimanyu has always loved Akshara and will not give the desired love to Arohi. Manish against Arohi and Abhimanyu's wedding.
Abhimanyu wait for Abhinav at police station. He thinks Abhir is too much. Akshara comes to the police station for Abhimanyu's rescue. Akshara and Abhimanyu's hit and miss. Abhinav come for Abhimanyu's rescue. Police asks Abhinav to pay fine if he wants to release Abhimanyu. Abhinav helps Abhimanyu. Abhimanyu and Abhinav befriend each other.
Abhinav asks Abhimany how he landed to the police station. Abhimanyu says he destroyed public property. He further asks Abhinav as he has send his wife too. Abhinav says he came. He further worry Akshara will not spare him today.
Abhinav asks Akshara to relax. Akshara gets angry on Abhinav for lending money to Abhimaynu again. Abhir informs Akshara and Abhinav that Abhimanyu went jail because of him. He says Abhimanyu looks good thus throw attitude. Abhir says Abhimanyu's mother to teach him lesson. Akshara correct Abhir over troubling Abhimanyu. Abhinav says both Akshara and Abhir are wrong. He asks them to apologize to Abhimanyu. Abhinav decide to call Abhimanyu for lunch. Abhir and Akshara against Abhinav's decision. Abhinav asks God to uniteAbhimanyu, Akshara and Abhir. [Episode Ends]
Precap: Abhinav invites Abhimanyu at his home. Abhimanyu and Akshara comes face to face.
Also See: