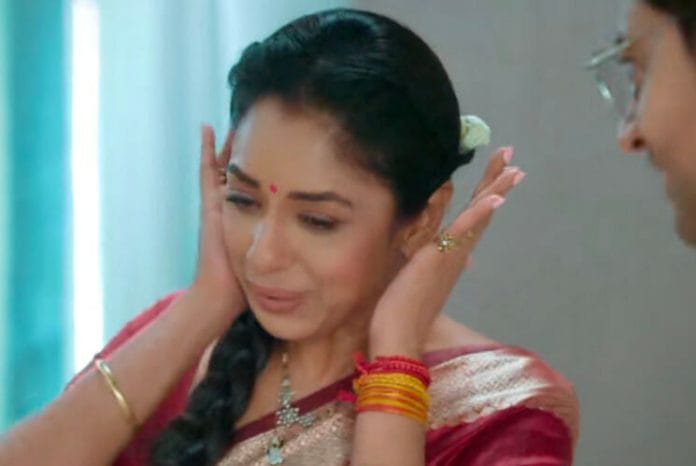 Anupama 17th January 2023 Written Update on TellyExpress.com
In today's episode, Paritosh asks why he is proved wrong every time. Vanraj says to Paritosh that all are wrong except him. He further asks Kinjal not to forgive Paritosh even if he apologizes. Vanraj apologize to Hasmuk and Leela for helping Pairotsh by giving away jewellery and property. Leela asks Vanraj not to worry as she will make jewelleries later. She asks Vanraj to take the ornaments as it is helping family member only. Vanraj takes the jewellery. Paritosh looks at Vanraj. Vanraj takes Leela's ornaments.
Anuj gets happy spending time with Anu and Anupama. Anupama gets a call from Kinjal. Kinjal breaks down. Anupama asks Kinjal what is bothering her. Kinjal diverts the talk. She says to Anupama that she was `just missing her. Anupama finds Kinjal's call suspicious. Kinjal hangs up the call.
Leela cries. Pakhi asks Leela not to worry as Adhik's friend is lawyer and he will find some solution. Leela says God avenges them everytime. She says every time year changes but their house stands in same condition. Hasmuk asks Shahs not to inform Anupama about the same. Leela assures and adds Anupama already isn't ready to help them.
Anu says to Anuj and Anupama that she had a best day. Anuj says since Anu and Anupama are with him, thus it is his one of the best trip. Anupama says the same. She further worries about Kinjal's call. Anupama think if Paritosh did anything. Anuj asks Anupama if she wants to go to Shahs. Anupama says to Anuj what will be the use if she will keep crossing the line. She decides to maintain the line between Shahs.
Pakhi feels bad for Shahs. She decides to emotionally support her family. Samar feels helpless. Pakhi boosts Samar's morale. Anu talks about Maya. Anuj, Anupama wonder how Maya came close to Anu so much. Vanraj returns back. Pakhi feed water to Vanraj. Hasmuk and Leela asks Vanraj if the work is done. Vanraj says yes. He further regrets disrespecting Anupama. Vanraj feels helpless. He realizes Hasmuk was right about not valuing Anupama. Leela accuse Anupama for not helping them. She says Anupama might have cursed them.
Anu decides to call Maya. Maya waits for Anu's call. Anuj and Anupama enquire about Maya. Dimple finds Anu over excited while talking with Maya. Anu informs Maya about what all she did entire day. Anuj asks Anupama to talk with Maya. Maya hangs up the call. Anuj asks Anupama to call Maya again. Anupama says mobile is switched off. Anu says she wanted to talk more. Anuj asks Anu to freshen up as Maya might be in no network area. [Episode Ends]
Precap: Leela curses Anupama. She says like Shahs, Kapadias will get destroyed too.
Also See: