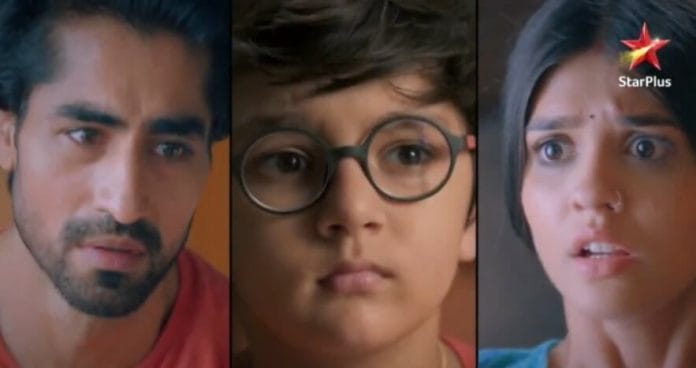 Yeh Rishta Kya Kehlata Hai 18th November 2023 Written Update on TellyExpress.com
In today's episode, Arman remembers Mrs. Poddar's words. He walks down the road emotionally. Arman says his mother can't be wrong. Madhav and Arman's face-off: Arman excuses himself. Vidya watches Arman from afar.
Ruhi searches in her room. Manish and Swarna ask Ruhi what she is looking for. Ruhi says she is looking for a remote. Mainsh helps Ruhi. Ruhi searches again. Manish asks Swarna why Ruhi is restless. Swarna thinks Ruhi is looking for Arman. Ruhi feels irritated.
Vidya tells Arman that Mrs. Poddar loves him. Arman says he knows. He adds that Mrs. Poddar hates his biological mother. Vidya asks Arman if he is questioning her love. Arman says Poddar's has accepted him. He feels down that he didn't take birth in the family. Vidya makes Arman understand that the house belongs to him. She says Arman is Mrs. Poddar's pride and idol for his cousin. Arman asks Vidya, What about his pain? Vidya says she is his truth. Arman asks Vidya how she suffered her whole life. Vidya asks Arman to stop making her cry. She says nothing will change between them. Vidya and Arman hug each other.
Yuvraj demands Jagtap open the door. Jagtap asks Yuvraj to go outside and do whatever he wants to do. Arman gets restless to talk with Ruhi. He searches for Ruhi's number. Arman tries to call Abhira to get Ruhi's number. Abhira refuses to talk with Arman.
Ruhi thinks Arman visited her house. She gets excited. Rohit visited the Goenkas. He introduces himself to the Goenkas. Ruhi stands stunned. He waits for Arman. Rohit asks the Goenkas to keep the gifts. Ruhi waits for Arman's call. Manish asks Rohit to thank Mrs.Poddar. Rohit asks for gifts. Manish for not sending Soan Papadi. He decided to eat the sweets. Ruhi thinks Arman would have called her, at least. She further asks Manish to avoid the sweets. Rohit thinks Ruhi is looking cute while scolding. He imagines Ruhi might look cuter while smiling.
The poddars' gather to do the Puja. Rohit wonders why the family seems tense. Arman and Mrs. Poddar avoid each other. -Episode Ends
Precap: Arman bumps into Ruhi at the temple. Both confess their love for each other. Abhira gets kidnapped by Yuvraj. Yuvraj forces Abhira to marry.
Also See:'