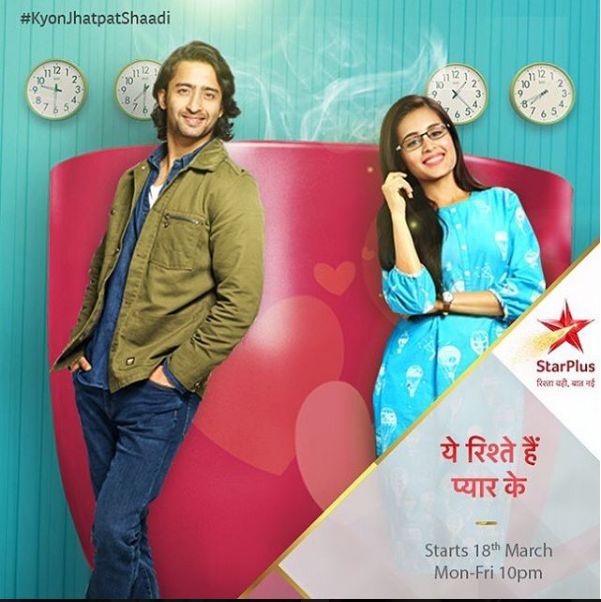 Yeh Rishtey Hain Pyaar Ke 10th April 2020 Written Update on Tellyexpress.com
The episode begins with Abir thinks something is wrong with Mishti and didn't understand she is sad or angry.
Mishti thinks how to lie to the person whom she loves most. Abir says something to Jugnu. Jugnu tells Mishti that Abir was so happy till yesterday but today he seems so sad don't know what happened to him suddenly. Mishti thinks because of her he is sad.

Abir asks her to do the bandage. Mishti asks him to not move. He moves and gets hurt because of that. She says she told him to stay away otherwise he have to face the pain like this again. He says he knows to handle that pain. She says she doesn't want to hurt him never and was about to go from there but Abir stops her by holding her hand. She asks him to let her go because talks are over. He says  nothing is over because it's not even started yet. He asks why she seems tensed nowadays. She says she just wants no problem in Kunal and Kuhu's marriage and they should stay together happily that's it nothing else. He asks nothing else? She says yes and goes from there.
Kunal says he doesn't know what backbenchers does. Abir says they breaks the rules and they enjoys the bachelor's party. Other side Kuhu and Mishti dances on bachelor's party. Mishti decides to talk with Kunal. Abir dreams about Mishti and confesses his love to her but it turns out be Nanu.
Mishti calls him aside and asks about Kunal. Abir takes her to his room. She says she came to meet Kunal. He says she came to meet Abir. She asks is he drunk? He says shyari in drunken state. She asks him to not say shyari when he is drunk. He says he can't say shyari and drive too when he is drunk but can praise her beauty. He keep praising her beauty and asks her to say something because he wants to listen her. She kisses on his cheek and was about to go from there but he holds her hand, in that process both falls on his bed.
He makes her wear her specs. She says she wants to go. He says he wants to say something and asks her to listen him without interrupting. He was about to confess his love but she changes the topic. He says in childhood he was not this much angry with Meenakshi. She says whatever may happen in her life but he always gave reasons to smile.
Next day Abir asks why Mishti didn't called him yesterday? She says he was drunk yesterday and wanted to talk with Kunal. He says he asked her something but she didn't answer so till marriage completes she have time after that too if she didn't answer then he will find her answer and will tell everyone about their love. He says now he will show her small trailer and movie she will see later. Abir dances on mehandi laga ke rakhna song.
Rajshri joins him, later everyone joins them. Mishti shouts at Varsha. Shaurya asks what happened? Varsha says nothing. Mishti says Varsha is lying and says she never scolds Kuhu even when she does mistakes but always scolds her and asks why this difference. Varsha slaps Mishti when she talked about Kuhu's birth. Abir thinks why Mishti behaving like this. Parul thinks Mishti doing everything which Meenakshi wanted her to do.
Episode ends.
Precap – Mishti and Abir confess their love to each other.