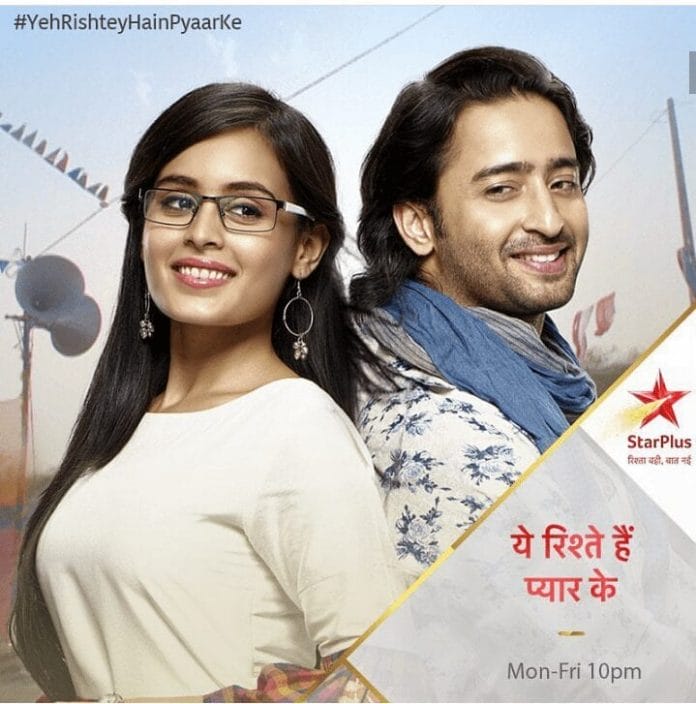 The episode starts with Kuhu messaging Kunal that it is not funny to suddenly disappear and then send sms with unknown number and warning him to kill her.
Just then Kuhu sees Mishti rushing downstairs. Mishti checks Abir and Kuanl's location on tablet and finds out they are in same place. She leaves.
Kuhu checks the location too and sees that they are on highway. She understands that Kunal and Abir have been really kidnapped since there is surely no movie theatre on highway and they had gone to watch a movie. She goes behind Mishti.
On the other hand Meenakshi's interview is being taken. Meenakshi says that for others her husband affair must be a gossip but they believe that the way she faced everything should be an inspiration for all the girls. Meenakshi thanks and says that she wants them to meet her inspiration. She asks the persone to come inside.
Parul comes and Meenakshi says that they want to ask her some questions. The interviewers ask Parul if she wants to join office too. Meenakshi replies that she would be very happy if she does but Parul has grown up in village and knows only gujrati and hindi. Parul says that she is right and she doesn't know english and talking with big personalities but Meenakshi taught her whatever she knows. She says that she is happy at home only. She adds that she is thankful to Meenakshi for giving such an upbringing to Kunal and making him study abroad and learning english.
The interviewers thanks her and Meenakshi and then leave. Meenakshi thinks that today she has shown Parul her real place and now she should remember it forever.
Mishti rushes outside and Kuhu follows her. Mishti hopes that Kunal and Abir are fine. She is about to stop an auto but Kuhu stops her. Mishti says that she has no time to fight with her. Kuhu asks her what she is doing to not have time to fight with her for two minutes.
Mishti stops a cab and asks Kuhu to let her go because there is no competition going on but Kuhu stops her again and says that she knows Abir and Kunal are in danger and she wants to go to save them and take whole the credit. Mishti wonders why she takes everything as competition.
The driver asks them why they stopped him if they had to argue only. Kuhu asks him to stop two minutes. Mishti asks Kuhu to let her go. Kuhu asks Mishti if she thinks she can save Kunal and Abir alone. Mishti says that she could do something alone but now can't hear her anymore. The driver leaves. Mishti says that he couldn't listen to her nonsense too. Kuhu taunts her.
Mishti says there is just one way now and goes to the scooter but Kuhu says that she will drive it and sits on it asking Mishti to hold her tightly. Mishti agrees. They leave on someone else's scooter.
Meenakshi asks Kaushal if Parul will be able to handle the business. Kaushal says never. Meenakshi says that the interview is necessary and adds that she and her brother Kaushal can't pay for the price for her family. Kaushal asks her what she means.
Meenakshi says that Kunal is Parul's son but they both are important for the business too. She says that she is worried for Athul who has nothing to do if Parul takes the whole business. Kaushal says that Parul won't do that. Meenakshi says that they thought the same about Mehul.
Kaushal and Meenakshi watch the interview that has been uploaded and sees that Parul has gained credit again. The peon comes and tells Kaushal that a client has come. Meenakshi asks Kaushal to meet them. Kaushal says that he will talk to them later. Meenakshi asks why. Kaushal says that they want them to organize their summer festival but it is too late now and they should have come before. Hearing that, Meenakshi asks Kaushal to bring the reporter who took interview there immediately.
On the other hand Mishti asks Kuhu to stop. Mishti asks a man what happened there since there is stuff scattered around. The man tells her that two boys who seemed to belong from a rich family got kidnapped. Mishti shows him Kunal and Abir's picture and he says that they were the two boys and brings their phone which dropped from their pockets.
Mishti wants to call the police but the man tells her that kidnappers said that it won't be good if they call police. Kuhu asks him when the kidnapping happened and he tells them that it happened one hour ago.
Kuhu blames Mishti for wasting time after receiving kidnapper's message. Mishti says that she got the message too but it seems like she was waiting for her to do something and then interfere. She says that it is not the time to fight and they shall find out a solution. Mishti wants to call police but Kuhu stops her.
Just then the kidnappers call them adn asks them to bring money to the address he is sending. Mishti says that this could be a trap and is hesitant to go but Kuhu leaves because she doesn't want to waste time.
On the other hand Meenakshi agrees to organize the summer festival and Kunal will do everything. She tells to the reporter that Kunal learnt everything from her only and once the festival is done they can decide who should get the credit.
Kuhu reaches the address she was given but nobody is there. She shouts that she has watched Bhaagi 1,2,3 and is also ready to watch Sooryavanshi. Someone attacks her but Mishti comes and beats that man. There are two kidnappers. Kuhu ties them with a rope. Mishti says that now they should get them to Abir and Kunal.
Later Mishti and Kuhu are on van and the kidnappers are sitting behind while Mishti is driving. Mishti scolds Kuhu for not listening to her and says that she would have got kidnapped if she hadn't come.
Meenakshi comes back home and Nidhi compliments her for the interview and asks her why Parul was in the interview too when she doesn't even go to office. Meenakshi says that whole the family is part of the business too.She goes to Parul and asks her to be careful in kitchen which is her office.
Parul says that the kitchen is her responsibility and she won't give more responsibilities to her for sure. She leaves.
Kaushal tells Meenakshi that Kunal had refused to get the summer festival project before so she should ask Kunal before agreeing for it. Meenakshi says that her decision can't be wrong. Parul agrees with her.
The kidnappers bring Mishti and Kuhu in a resort saying that Abir and Kunal are there but they leave after pushing Mishti and Kuhu in a pool.
Kuhu asks Mishti if she is fine and says that she is very angry and won't spare them for ruining her outfit. Mishti asks her to leave that and asks her if she is fine.
Just then Abir and Kunal come there dancing and holding drinks. Mishti and Kuhu are surprised to see them. The kidnappers come and asks Abir and Kunal to save them since Mishti beat them a lot. Abir says that he knew she is violent. Kuhu and Mishti bash them for such a bad prank.
Abir says that they just wanted them to chill out and solve their problems. Kuhu says that they should have taken them to ice cream parlour or mall for that not kidnap then. Kunal says that they knew they were fine so it wasn't a very bad prank. They ask the girls to come out of pool.
Kunal asks Kuhu not to be angry and says that he will take her to nail spa. Kuhu gets happy but Mishti says she will take her there. Abir says that he will go to the nail spa. Kunal says that he has booked on Kuhu's name. Kuhu says that he can go to have manicure with their kidnappers.
Abir and Kunal apologize and say that they had no bad intention. Kuhu and Mishti hug their respective husband and say it's ok but they suddenly push them in the pool after exchanging glares.
Kuhu and Mishti laugh and exhcnage hi-fives. They pull their legs and ask the kidnappers not to let Abir and Kunal to come out of the pool before an hour. They leave. Abir complains and says that his phone was in the pocket too. Kunal says that his phone is waterproof but his expensive suit isn't. (Episode ends)
Precap: Nanu asks Kunal and Abir to stop ruining his reputation and have honeymoon in that resort. Kunal and Abir dance with Kuhu and Mishti respectively on "Tumse milke dil ka hai jo haal". Meenakshi wonders where Abir and Kunal are and decides to track them.