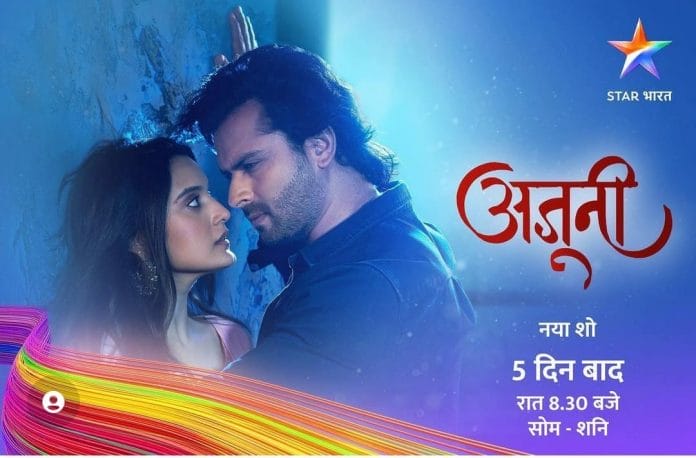 Ajooni 11th January 2023 Written Update on TellyExpress.com
Episode begins with Rajveer rejects all the dress which Ajooni selected to wear for puja. Ajooni asks him that if he did not like anything. He tells her that she is lucky because she has him and gives new dress to her. She likes the dress but pretends like she did not like it. She tells him that she won't wear a dress like this. He asks her that if she is sure she won't wear this. She shook her head. Shikha comes there and tells them that Bebe called them. She notices the dress which Rajveer brought for Ajooni.
In the hall, Bebe gives her husband's shawl to Rajveer and asks him to wear it for puja. Everyone smiles hearing her except Shikha. Ravinder tells Rajveer that the latter is lucky because Bebe never let him touch the shawl and leaves from there to attend a call. Bebe tells Harvinder to get ready on time for puja. Shikha tells her that it's her first puja so she will take care of everything.
Ajooni says that Shikha can't sit in the puja. Harman says that Ajooni started the drama. Shikha says that wrong is happening with her and cries. Bebe pushes Aman and taunts her for thinking to sit in the puja. She says that Aman already sit for Kuldevi Puja. Ajooni is about to say something but Rajveer stops her. She recalls that how he said that they will be their priority.
Ravinder returns and asks Ajooni that what happened. Ajooni tells him everything. He reminds Bebe that Shikha tried to kill Aman so Shikha is just living as guest in the house. He says that guest is not allowed to sit in Kuldevi Puja so Shikha can't sit in the puja. He adds that Aman is daughter in law of Bagga house so she will sit in the puja with Harvinder and goes inside.
Ajooni notices that Rajveer is angry. Rajveer tells her that it's not necessary to interfere in all the matters. She tells him that wrong was happening with Aman. He tells her that she can do whatever she wants to do and leaves from there.
Later, Shikha sneak into Ajooni's room and steal Ajooni's new dress to create rift between Ajooni and Rajveer. She puts Ajooni's new dress in the dustbin. Next day, Shikha thinks that Ajooni won't forget this puja. She pretends like sick and leaves to throw garbage out of the house. Harman orders Ajooni to throw garbage. Ajooni nods at her. After some time, Ajooni searches her new dress. She asks Rajveer that if he saw her new dress. She says that her new dress is missing. Harman says that she saw one packet in the dustbin. Shikha says that Ajooni throw the garbage.
Episode ends.
Precap – Shikha says that Ajooni did not like the dress which Rajveer brought for her. Ajooni tells Rajveer that she don't know how that dress end up in the garbage bag.
Click to read