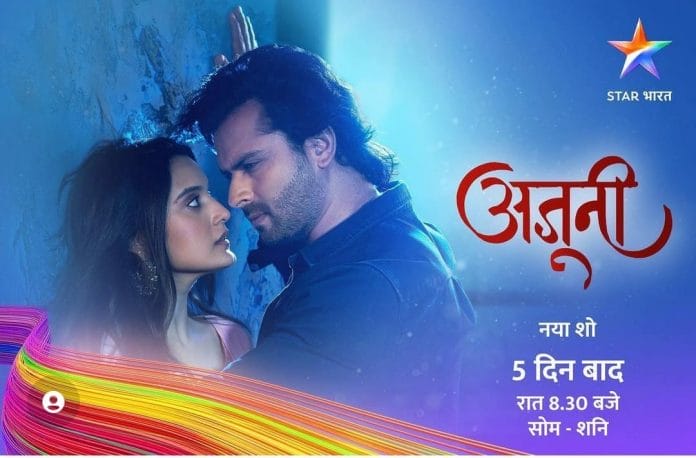 Ajooni 26th September 2022 Written Update on TellyExpress.com
Episode begins with Ajooni asks Rajveer about Aman. Rajveer tells her that Aman is inside the ICU. She asks him that if Aman is fine. He scolds her for leaving Aman alone. She tells him that she went to fill the form. He blames her for Aman's condition. He says that he made mistake by trusting her. He tells her that she came to meet Avinash. Doctor asks him to bring medicines. Rajveer warns Ajooni to not move until he returns.
On the other hand, Bebe returns to house. She tells Dolly that she ordered swing. She asks her to bring Aman. Chamko tells her everything. Bebe slaps her. She asks Dolly that how it all happened. Dolly blames Ajooni for Aman's condition. Bebe tells her to call Ravinder. She asks Ravinder that what happened to Aman. Ravinder informs her everything. He tells her that he will talk to her later and disconnects the call.
Harvinder tells Shikha that he got escaped. He tells her that he wants her as his wife. Shikha reminds him that his first wife is alive still. He tells her that he has many plans to kill Aman.
Ravinder asks Ajooni that why the latter left Aman alone. Ajooni tells him that only patient was allowed in the elevator. He tells her that she is lucky that she is Mrs. Bagga. He scolds her for disappointing him always. He tells her that she is like dangerous curse for Baggas. He reminds her that she did drama for Aman. He tells her that he won't spare her if anything happened to his grandchild then.
Dolly tells Harman that she planned to hurt Ajooni but her plan flopped. Harman scolds her. Dolly tells her that Harvinder asked her to inform him that when Ajooni and Aman leaves the house. Harman reminds her that their target is Ajooni not Aman. She says that now her grandchild is in danger.
Ravinder complains about hospital facilities to hospital trustee. Avinash tells him that it looks like a planned attack. He reveals that he saw a person leaving from power supply room. Trustee says that something is fishy and he won't spare whoever is responsible for this. He tells Ravinder that Avinash and Ajooni saved Aman. Rajveer gets shocked hearing him. Ravinder tells Ajooni that he scolded her a lot in anger. He apologizes to her. He thanks Avinash. He blesses Ajooni.
After some time, Avinash tells Ajooni that Aman was never pregnant. Ajooni asks Aman that why the latter lied. Aman tells her that she did not had any other choice to stop Harvinder's marriage. She requests them to not tell the truth to Baggas.
Bebe asks God to protect their grandchild. Meanwhile, Avinash tells Baggas that they could not save Aman's child. Ravinder is about to attack Ajooni but Avinash comes in between them. Avinash tells Ravinder that elevator accident is somebody's plan.
Episode ends.
Precap – Ajooni tells Avinash that no one should know about the secret. Rajveer sees them together.
Click to read