High voltage drama ahead in Star Plus show Nazar with Ansh stabbing Vedshree and Heera turning into human being.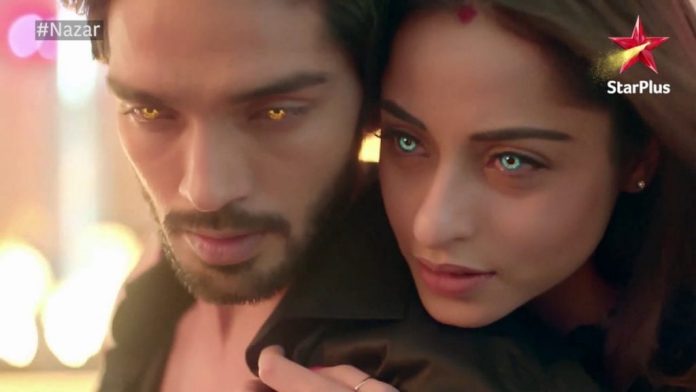 So far in the episodes, Shalaka says to Adi that he can't fool her with his powers. She says his parents hurted his son and now she will hurt his parents. Adi throws tree at her and she throws them away. Piya and Ansh gets worried for Adi.
Meanwhile, Shalaka tries to hurt Adi and Ansh, Piya stops her. Shalaka says she will hurt Aditya because Piya has hurted her son Rahul. Ansh, Piya fights with Shalaka. Shalaka defeats Piya and throws her out. She says Piya will go into her past and Ansh and Aditya will remain in present. She was about to attack Piya but Ansh saves her using his power.
Piya confesses that she agrees, she has attacked Rahul but she did that in self-defense. She intentionally didn't kill him. Ansh worries for Piya and wonders why she instead of attacking Shalaka talking to her. Shalaka throws blue powder at Piya. Piya faints and Ansh gets angry at Shalaka. Shalaka later realizes that Piya didn't killed her son and asks Ansh to save Piya. Shalaka vanishes. Otherside everyone at Rathod house gets scared seeing Mohona power. Vedshree calls Nishant for help.
Now in the upcoming episodes, will see Ansh will stab Vedashree with Shalaka's dragger despite of Nishant's fervent warning. Meanwhile, Heera turns into a human being and disappears without a trace.
What next happens next in Nazar will be interesting to watch. To know more Keep watching Nazar, mon-fri,11pm on Star Plus and Hotstar.
Keep looking this space for more updates.