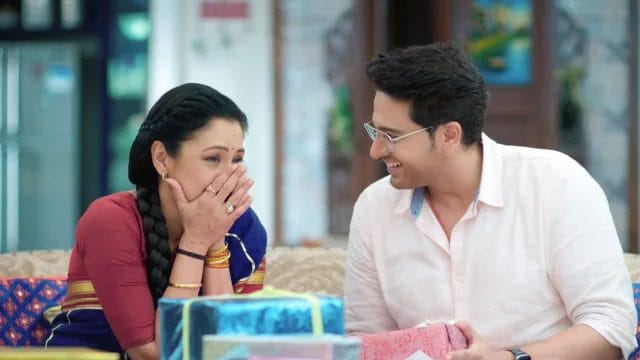 Anupama 13th May 2022 Written Update on TellyExpress.com
In today's episode; Vanraj says to Anupama that her happiness has put Hasmuk in the worst situation. He asks her to leave as post her bidaai, they are going to look after him. Leela joins Vanraj and asks Anupama to end her wedding drama soon so that they can take Hasmuk to the hospital. Anupama says her relationship with Hasmuk is unbreakable. Leela says to Anupama that post she will leave with Anuj she will not allow her to come back to Shah house. She says for putting Hasmuk in this condition, she shares only a hate relationship with her. Vanraj says to Anupama that if anything will happen to Hasmuk he will not spare. Anupama says to Vanraj that nothing will happen to him.
Anupama prays to God to keep her words and nothing should happen to Hasmuk. Anuj come and gives his support Anupama. He asks Anupama to keep faith. Both decide to take care of Hasmuk. Anupama says Hasmuk's happiness lies in her wedding and now she will hide her pain like him, and will keep smiling during her wedding. Anuj supports Anupama. Anupama talks with doctor. Doctor assures Anupama that Hasmuk's operation can take place after two days too.
Ahead, doctor visit Hasmuk. He says Hasmuk is recovering but need extra care. Doctor asks Shah's not to stress Hasmuk. Shah family relaxes. All decide to celebrate Anuj, Anupama's haldi. All instruct Hasmuk to enjoy and not take any stress. Hasmuk decide to be a part of the function.
Anuj, Anupama gets excited for their Haldi. They also dream about their wedding. Kanta crushes haldi for MaAn. Pakhi, Samar, Paritosh and Kinjal helps Kanta. Hasmuk gets happy seeing the family celebrating. Leela asks Vanraj why they always lose to Anupama. Vanraj says it is the first time he lost to Anupama. Leela says none shower respect to them. Dolly come and urges Leela to bless Anupama for Hasmuk's sake. She asks Leela to bid a good bye to Anupama. Dolly highlights ever Vanraj will go through a tough time, Anupama will be the first one to come in support with him. She asks Leela and Vanraj for Hasmuk's sake they should attend Anuj, Anupama's wedding. Pakhi, Samar, Paritosh and Kinjal urges to Leela and Vanraj too.
Shah family gathers to celebrate Anuj and Anupama's haldi ceremony. Vanraj and Leela joins the function. Everyone asks Anupama to start the function. Anupama shy away. [Episode Ends]
Precap: Anuj applies haldi to Anupama. Vanraj sits irked
Also See: