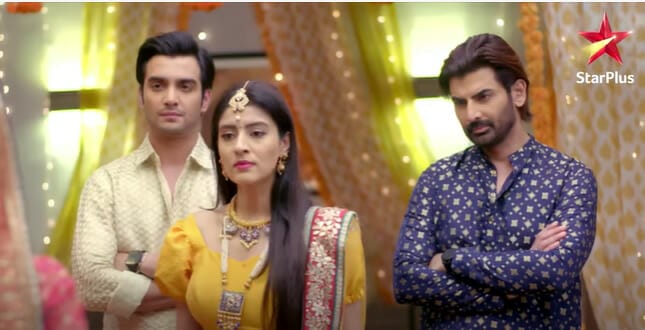 Anupama 15th September 2022 Written Update on TellyExpress.com
In today's episode, Meenu asks Dolly if she can fetch candy floss. Hasmuk says if Jignesh would have been here he would have rushed to fetch the floss. Anu says she too wants to have. Barkha stops Anu and says roadside candy floss is unhealthy. Ankush asks Barkha not to worry as everyone has floss in their childhood. Meenu and Anu leaves.
Paritosh decide to keep a pet name for Arya. Samara says he needs to get the name approved by them first. Paritosh says he will call Arya as Pari lovingly. Shahs like the name. Anupama gets a flashback. Rakhi says Anupama is silent and it is good for them. Paritosh confess his love for Kinjal. He asks her not to doubt on him if he comes late home. Paritosh assure Kinjal that he will fight with the world for his daughter and wife. Kinjal gets happy. Anupama asks Paritosh to keep some shame.
Rakhi tries to cover Anupama. She tries to take Anupama to the room. Shahs stops Rakhi and asks Anupama the reason for her reaction. Rakhi says nothing has happened when Shahs asks Anupama to speak up why she screamed. Kinjal asks Rakhi to stop. She asks Anupama what happened. Anupama apologize to Kinjal. Anuj, Vanraj, Leela and others ask Anupama to speak up. Barkha asks Anupama to speak up instead of standing mum. Anupama says when a mother gives ordination to a child she forgets if child will take it or not it depends on a child totally.
Kinjal asks Anupama what she wants to convey. Anupama says she regrets giving a birth to Paritosh. She adds she feels more regret as Paritosh isn't feeling guilty a bit. Leela asks Anupama what rubbish she is talking. She asks Rakhi to take Anupama inside as she is not in her senses. Anupama says to Leela that if she will hear about Paritosh's truth than she will start hating him too. Vanraj says Anupama and Rakhi are hiding something. He asks Paritosh what is the matter. Paritosh says nothing. Anupama gets angry on Paritosh for doing sin and casually trying to cover it up. She exposes Paritosh's deed. Kinjal stands stunned. Rakhi says to Anupama why she told everyone despite she warned her. Paritosh defends himself. Anupama gets angry on Paritosh. Kinjal asks Paritosh if Rakhi and Anupama is saying truth. Paritosh asks Kinjal to believe he love her. Kinjal asks Paritosh to swear upon their daughter. Paritosh stand mum. Vanraj asks Paritosh to speak up. Paritosh says Anupama is making an issue of his fling. Anupama slaps Paritosh for not being guilty for his deed. Rakhi says Paritosh is following Vanraj's footsteps. Shahs stand shocked. Kinjal cries. [Episode Ends]
Precap: Vanraj slaps Paritosh. Kinjal says she will excuse Paritosh on a condition. She says like him she too wants to experience just a fling. Paritosh gets angry. Kinjal shouts on Paritosh.
Also See: