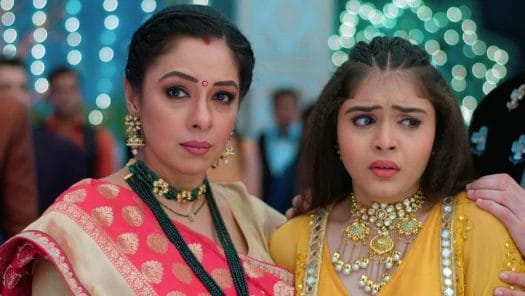 Anupama 18th August 2022 Written Update on TellyExpress.com
In today's episode, Anupama cries seeing Anuj. Kavya feels bad. Vanraj returs home along with Kavya, Paritosh, Leela and Hasmuk. Dolly, Rakhi, Jignesh and Kinjal welcome Vanraj. Leela asks Vanraj to pray to the God first. Vanraj pray for Anuj's good health too. Anu scolds Vanraj for rash driving. She asks Vanraj to drive properly from next time. Anuj imitates Vanraj and says well he is back. Vanraj gives a warm hug to Anu. Anu calls Vanraj, Anuj's friend. Vanraj melt hearing Anu.
Anupama play a game with Anuj. She says she won the game and now she wants him to wake up. Anuj's body responds. He asks Anupama to take him back home and falls unconscious again. Anupama calls out for doctor. Samar console Anupama. Barkha talk with Ankush and Adhik. She decides to benefit the situation and turn against Shahs. Barkha says Vanraj is lying by saying he don't remember the accident. Ankush asks why she is doing all these things. Barkha says for the sake of Adhik and Sara. She asks for GK. Adhik says GK has turned silent nowadays and he doesn't understand him. Barkha asks Adhik to ask GK to prepare food as she will go to the hospital to keep herself updated.
Anupama tell to doctor that Anuj regained her consciousness for short time. Doctor says coma patient coming back to the senses and falling consciousness again is normal. Anupama asks Doctor if she can take Anuj to the home as he was pleading. Doctor says handling patient like Anuj is not easy. He says only if she can take care of Anuj fully than only she should take him home. Anupama decide to take Anuj back to the home.
Kinjal asks Vanraj he is having so many cups of tea. Vanraj says at hospital he didn't have tea. Jignesh talk about Janamashtmi. Shahs decide to simply celebrate Janamashtmi and pray for Anuj. Vanraj wish Anuj regains consciousness till Janamashtmi as his birthday falls on the same day too. Leela asks Vanraj not to feel guilty.
Anupama informs Ankush that she is bringing back Anuj. Barkha gets irked. Leela decide to pray to God. Vanraj asks leela to pray for Anuj. He worries for Anuj's health. Anupama brings back Anuj to the home. Anu welcomes Anuj. She confesses that she missed him. Anupama asks Anuj to wake up. Anu, GK, Hasmuk, Samar, Paritosh and Ankush too asks Anuj to wake up. Anu asks Hasmuk if they are staying back. Hasmuk nods. Barkha taunts Vanraj for taking Anuj to the cliff. Paritosh gets irked. Hasmuk stops Paritosh from reacting. He asks Paritosh to hide the Barkha's taunt from Anupama and Shahs.
Vanraj worries if he is behind Anuj's condition. Leela tries to calm Vanraj. [Episode Ends]
Precap: Barkha argues with Anupama and says she too don't trust her too. Anupama threatens Barkha.
Also See: