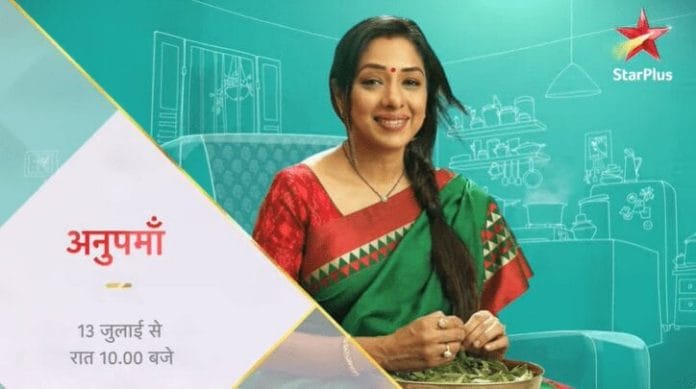 Anupamaa 7th August 2020 Written Update on TellyExpress.com
Episode begins with Anupamaa serves food to everyone. Samar was teaching dancing moves to his friend, Vanraj sees that. Anupamaa asks him to not get angry saying Samar will join them later. Samar's friend teases Samar with that rakhi girl. Pakhi clicks food to post on social media. Leela's brother asks her to click their pictures too. Nihar says he will click their pictures with his new camera. Leela tauntingly says they have money to buy camera but not can't buy costly gift for sister. Nihar says he got the camera as gift. Leela asks who gifted him. Before Nihar replies someone shouts Anupamaa's name from outside.
Paritosh goes and asks that guy what he wants. That guy says he has to talk to Anupamaa and asks him to call her. Vanraj asks him to not shout. That guy says he would have talked with Vanraj nicely if they didn't cheated him. He says they bought stuff from his shop but forgot to pay him. Anupamaa says she didn't buy anything from him and says she doesn't even know him. That guy shows Samar and says he is the one who bought stuff from him. Vanraj calls Samar. Samar shocks seeing that guy and asks why he came to his house, if he called him he would have went to the shop. He says he will give the payment and asks him to leave from there. That guy says without taking the payment he won't go anywhere. Samar thinks Vanraj should not know that Anupamaa bought camera for Nihar in EMI and decides to took whole blame on him. Anupamaa thinks Samar will be scolded because of her on festival day, so decides to tell the truth. Vanraj takes the cheque from that guy and sees Anupamaa. Samar tells Vanraj that he will explain and says there is no fault of Anupamaa because it was his idea. Vanraj slaps Samar. He pays the amount. Anupamaa says it was her idea. Vanraj says if she didn't lost her job then she would have lied to him every month.
Vanraj tells Samar that if he made mistake like this again then he will throw him out of the house. After taunting Anupamaa he leaves from there. Samar too leaves from there. Sanjay tries to console Samar. Samar asks did he really deserved slap for his mistake and says now Vanraj will treat Anupamaa badly. Bhavesh tells Leela that he will give the amount of that camera. Anupamaa says there is no mistake of Bhavesh, it was her mistake. Leela says Vanraj left house without eating anything on festival day and Samar got slap from his father and says everything happened because of her. Vanraj reaches Kavya's house and says he will book hotel for Anirudh but he can't stay with her. Kavya takes her house duplicate key from him and says Anirudh is still her husband so she has to give these key to him. She says if he can't see her with Anirudh then she is ready to stay in Vanraj's house till Anirudh stays in her house. Vanraj shocks hearing her. Anupamaa blames herself for everything and says she couldn't even hug Samar and cries badly.
Episode ends.
Precap – Anirudh's entry shocks Vanraj and Kavya.