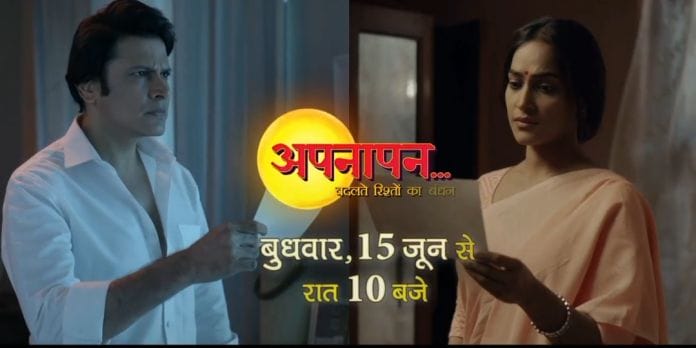 Appnapan 19th August 2022 Written Update on TellyExpress.com
Episode begins with everyone in the gulati family trying to chase a mouse. Nick comes there and Pallavi asks him to help them catch the mouse. Pallavi gives him a broomstick. They all run here and there. Suddenly, Dadi comes and Nani gets happy seeing her. They both hug and greet. Mana also comes to greet Dadi when she says I want to meet Pallavi first. Badal, Barkha and Gagn get confused about who she is. Pallavi comes and gets happy to see her. Dadi asks her to do high five first. Pallavi hugs her.
Dadi says how come there are 5 kids? Pallavi says Badal and Gagan are the youngest of them all, they are twins. Dadi gets happy to see them all. Dadi says it's my bad luck that I couldn't get a happiness of being a Dadi and stay with you all, I was always kept far. Mana says no issues now you can be here with us. Mana says when I first saw you on video call I felt you will be strict but you are so cool. Dadi gets happy. Nick comes to Pallavi and says mom doesn't know anything so pretend that everything is normal.
Nick keeps a hand on Pallavi, she tries to resists. Nick says why are you shying? We have 5 kids. The kids get suspicious about their behaviour. Dadi calls Harsh near her so he goes. Nick holds Pallavi's hand and says kids you take care of Dadi, I need to talk to Pallavi. They leave.
Nick tells Pallavi how Dadi was in death bed and didn't have any wish to live after seeing us get seperated even the doctors said there was no hope but few days before she saw our interview and she saw us support each other. She came in that hope, I don't want her to know we are separated as her heart is weak, she won't be able to take it. Pallavi asks how will it be possible? Nick says it will be, I want her to live more even if it is for few months or years. Dadi starts calling them so they think the kids might have told them. They go out.
Dadi calls Nick as Kuku so the kids laugh hearing his nickname. Dadi asks Pallavi if it's true? Pallavi says no. Dadi says so Pizza didn't came right? I knew it Pallavi will never allow. Mana says really mom? Pallavi says Pizza did came here earlier. Dadi says then for me? Pallavi says for you I will make Karela. Dadi gets emotional and says I am so lucky and blessed to have you, I am so happy you and Nick came together, if you teo get seperated then I will die. Pallavi says we won't let that happen. Barkha comes to Nani says are you jealous? Nani says we are far ahead of that age, it's important to live happily. Pallavi says I really like you and nothing will happen to you. Dadi says see she loves me more, I feel someone is jealous. Dadi looks at Nani and they laugh. Dadi gets cough so Nick worries. Dadi says don't worry, I got the perfect medicine seeing you two together. Nani takes Dadi inside.
The kids ask Nick what is going on? Nick says Dadi doesn't know about the divorce, it's a long story. Gagan says we need to know it now. Here, Nandita is in car and he asks Dadi's assistant why did he take her to meet Nick first? He should have informed her. The assistant said she said she wants to meet with Nick. Nandita says Nick has always been favourite of mom and dad, no matter how many mistakes he did he was pampered while I was not seen only, after so many years mom came and didn't even tell me or come to me. Here, Nick and Pallavi tell the kids about Dadi's condition and how we need to show her we are together a happy family. Badal says so you will show how everything is about us kids. Mana says it's true though. Harsh says really? I don't think so. Nick and Pallavi request to all as this is about Dadi's life. They all agree.
Episode ends.
Precap – Nandita asks Harsh to tell Dadi the truth. Harsh says he can't do this as Dadi will die. Here, Dadi hears something about Ranveer and asks about him to everyone at home.
Click to read