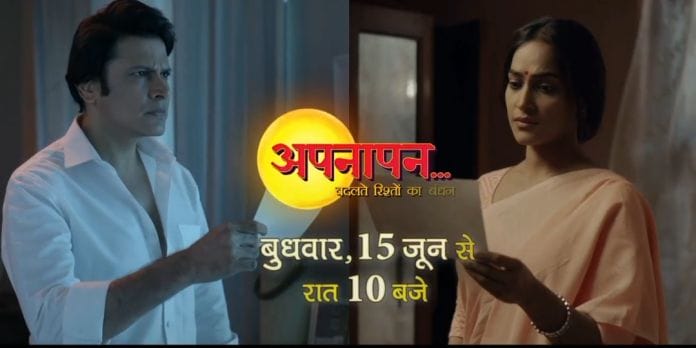 Appnapan 22nd September 2022 Written Update on TellyExpress.com
Episode begins with Gagan informing everyone that he got a job. Pallavi and Nick hug him. Pallavi says I am proud of you. Harsh says congratulations. Badal gets upset. Badal jokes on getting pocket money from him. Pallavi asks about the formalities. Gagan says I need to pay 1 lakh. Pallavi and Nick feel weird about it. Pallavi asks is your company doing illegal work? Gagan says all employees are doing it, I have talked to everyone it's just like holding a seat in school. Pallavi says tell me the company details so that we can check. Gagan gets angry and says you just want things according to you, can't you be happy in my happiness. Sonali smirks. Gagan goes.
Later, Pallavi is in room and is upset with Gagan's words. Dadi comes and makes Pallavi understand how Gagan is just hyper right now let him calm down. Pallavi says yes, I am sorry I couldn't get involved in the puja, please forgive me. Dadi says I will forgive you when you take part in tambola lunch. Pallavi says really? Dadi says yes, I am also cool, Tejjo arranged it but I wanted to inform you first. Pallavi laughs. Dadi gives Pallavi diamond earrings and says I want you to wear this in evening. Pallavi thanks her. Dadi says wear good and bright things I want people to see my daughter in law like that. Dadi goes and then again returns and says there are bangles with them too matching and another thing bye, I love you. Pallavi laughs and says bye. Again the door opens so Pallavi feels it's Dadi again but it is Nick.
Here, Barkha asks Mana which one she should wear? Red or Blue? Mana says Blue is Ishan's favourite colour you should wear it. Barkha selects a top from Mana's wardrobe and asks if she can borrow? Mana says yes sure. Barkha says I am going to meet Ishan today. Mana worries thinking if Ishan will tell Barkha about them.
Here, Nick offers to make Pallavi wear the bangles. Nick makes Pallavi wear it and they have a moment and eye contact. Nick asks Pallavi if her migrane is okay? Pallavi says yes. Nick asks Pallavi to calm down about Gagan. Pallavi says but a company asking money is so strange. Nick says it's matter of 1 lakh, I will give him. Pallavi says I don't want him to go down in trouble. Nick says you think I will want him in trouble? Pallavi says the thing is there is difference between thinking to care and actually taking care. Nick says what does that mean? They have a cute fight on where is the doctor that Nick called. They both smile. Pallavi goes. Nick thinks I always get mesmerized by your beauty Pallavi. Nick smiles.
Mana remembers how last night she went from room and listens to Ishan's voice note saying Ishan will tell Barkha that he has not interest in her. Mana worries. Barkha is happy about meeting him. Mana tries to ask Barkha why is she going to meet him? Barkha says he asked me to and I know he is missing me, okay I am going he must be waiting. Here, Sonali tries to tell Gagan that talk to Nick. Gagan says these company people are not giving any papers. Sonali says this company is very big and you asking so much might make them withdraw the offer, don't take tension I got this for you. Gagan opens it and sees a white shirt and blue trouser. Gagan gets happy and thanks her. Sonali says it will give you nice impression. Sonali thinks I need to think about everyone who challenges Pallavi. Sonali asks Gagan to talk to Nick and try every mean. Gagan says I wish mom was this cool too. Sonali pretends to support Pallavi but she maybe bit strict but the thing is she has always been like this possesive since beginning. Gagan says you said it rightly. Pallavi hears it and scolds Sonali.
Here, Mana tries to call Ishan but he ignores it. Ishan sees Barkha and thinks it's Mana as Barkha is wearing her clothes and has changed her look. Mana tries to tell Ishan that it's not her. Ishan is shocked when Barkha turns towards him. Here, Pallavi scolds Sonali for making her kids go against her. Gagan says it's not that big deal. Sonali says you are understanding this all wrong. Pallavi says how can you think that a mother can think wrongly for her children? Nick also comes there. Sonali says I was just telling Gagan to talk to Nick, why do you want to keep him away from his dad. Pallavi says I want to talk to my husband alone. Sonali makes faces and goes. Pallavi says Sonali is doing it all wrong she is making the kids go against me. Nick says the main point is why do you don't want the kids to talk to me? Pallavi says that is not the main part, I want you to do one thing for me, for my sake please send Sonali away from my home and life you have 24 hrs for it. Nick looks on.
Episode ends.
Precap – Nick tries to talk to Sonali for leaving when he gets a call about Gagan's accident. They both start to leave. Sonali thinks from now on Pallavi herself will give up on Nick.
Click to read