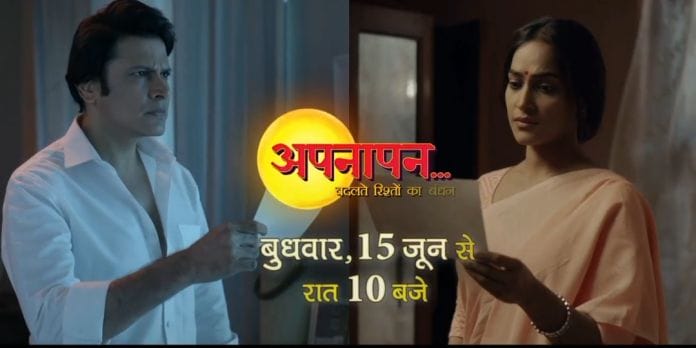 Appnapan 21st September 2022 Written Update on TellyExpress.com
Episode begins with Nick giving Pallavi a balm and then asks her to sleep. Nick and Pallavi go to sleep. Nick says you know from so many years when you were not there I used this balm, the smell is not good but it's very effective. Nick says why are you silent? I thought you will say something. Nick sees Pallavi is sleeping. Nick says I know you are acting. Nick sees Pallavi is not moving at all so he thinks she really slept. Nick adores a sleeping Pallavi.
Next day, all the kids get irritated by alarms. They think it's Pallavi. Sonali says it's me your mausi. Sonali asks everyone to wake up as Dadi has kept Shiv Parvati puja. Kids get sad but wake up. Dadi tells Nani how Pallavi has done all arrangements so perfectly. Sonali comes to take blessing from Nani. Nani thinks it's Pallavi but it turns out to be Sonali. Dadi asks you did all the arrangements? Sonali says yes sorry I didn't ask you. Dadi asks where is Pallavi? They go to their room and find Pallavi sleeping. Nani thinks to wake Pallavi when Sonali stops her and says wr shouldn't wake her up she had migrane and she was so tired yesterday. Nick says yes yesterday there was so much work that her migrane got triggered. Nani says it has never happened like this. Dadi says yes she has worked a lot but this has not happened. Nick says let me call doctor. Sonali says no, I mean if doctor comes and her sleep gets disturbed then it will be an issue. Dadi says I wanted to have puja with everyone. Nick explains to Dadi how Pallavi feels the same about puja. Dadi says you are right. Here, Gagan gets to know he got a job offer so he gets happy and informs Badal, Mana and Barkha.
Later, puja preparations are done when the kids are shocked to not see Pallavi. Barkha says Pallavi never sleeps so late. Harsh starts taunting her when Mana says we always sleep till late what's the issue if Pallavi is sleeping today. Sonali thinks I did this to get everyone's attention but everyone is talking about Pallavi only. Nick goes aside and calls Doctor to come and do a check up for Pallavi. Sonali takes Nick for puja. Sonali takes everyone's phone saying we should focus on puja so it's a matter of sometime only. Everyone gives her phone. Sonali messages the doctor saying Pallavi is okay.
Puja starts and Sonali smirks thinking how her plan is working. Mana notices Sonali not focused on puja and thinks she is so weird. Aarti starts when Pallavi heard it and gets up. Pallavi thinks how did I miss the puja. Pallavi goes to bath. All the kids do the aarti together and Nick thinks it's a such a delight to watch this, I wish Pallavi was here to see this. Just then Pallavi comes and sees Nick do aarti. Sonali sees her from far and goes to do aarti with Nick. Pallavi feels sad seeing it. By the time, Pallavi comes, aarti ends.
Nick sees Pallavi and goes to her asking how is she? Everyone comes to Pallavi. Dadi says you need to take care of yourself and eat well. Nick says right, I will see your diet from today. Sonali goes and feels angry.
Episode ends.
Precap – Pallavi requests Nick to make Sonali go away.
Click to read