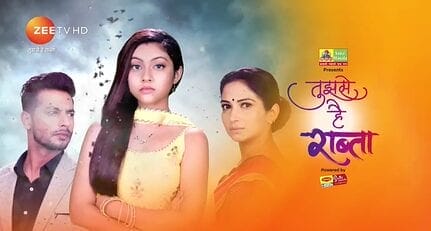 Zee TV's popular show Tujhse Hai Raabta is going in a way where Malhar and Kalyani have
started to feel for each other. Malhar who is unaware of his feelings finally realised that Kalyani holds special space in his life and he is not able to be normal like before without her. Another hand Malhar's uncle Sarthak ji is trying to make him understand that it's Kalyani whom he loves the most and wants back in his life. On the other hand like always Atharva and Sampada are busy conspiring against Kalyani and Malhar. They want their life to get spoiled and destroyed at any cost.
In the upcoming track things are going to get tough for Malhar and Kalyani. According to a reliable source close to the show, the loyal viewers of the show will get to see Atharva to play double game with Kalyani. He will plan to defame Kalyani at any cost and for that he will hire some goons who will make the video of him and Kalyani in the room of a hotel. So that he can take the advantage of the situation by making the video as his weapon.
As per the latest promo Malhar will be there at the spot and will ask Kalyani what she is doing there. However, Kalyani being the way she is will deny to spill the beans to him and asked him to leave. Once he left the goons hired by Atharv will come there and started to tease her in different way. Kalyani who will be left shocked on seeing their arrival will be more stunned to see Atharva in her room coming out of the bathroom. Before she could process anything further Atharv will trick and try to project himself as a saviour.
Tonight episode will see Atul who is the biological guardian of Kalyani will feel embarrassed after seeing the video. At that moment Atharva will reach there and ask for getting married to Kalyani in order to save her dignity and honour in front of the whole society.
Well Kalyani who is currently trapped by Atharv will definitely try to escape the situation. Malhar who is in love with Kalyani now, what will be his reaction to this whole scenario is something we have to wait and watch.
Don't forget to tune in to Zee TV every Monday to Friday only on 8:30 pm sharp.
For more such television related news keep reading this space.