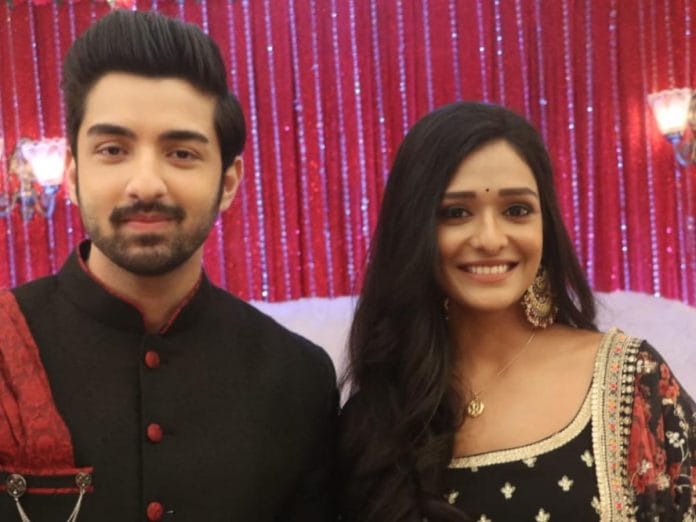 BhagyaLakshmi 14th January 2023 Written Update On TellyExpress.com
The episode starts with Neelam saying to Malishka that she wants Malishka to marry Rishi and says she also hopes that Malishka will be happy. Malishka says she also hopes for the same. Rishi comes and takes Malishka away right infront of his family members.
Rano thinks about what is going on as Balwinder said that Lakshmi agreed to marry him but Lakshmi is saying she doesn't want to marry Balwinder what is going on? Balwinder asks Lakshmi why is changing her decision as she said infront of Rishi that she is going to marry him. Shalu and Bani ask Balwinder to leave from there. But Balwinder still tries to prove to everyone that Lakshmi said that she will marry him right infront of Rishi. Balwinder tries to remind Lakshmi about the incident and asks Lakshmi what did she say at that time. Lakshmi recalls what happened. Balwinder says to Lakshmi that he will not leave from here until she says the truth. Lakshmi says she said yes to the marriage. Shalu and Bani ask Lakshmi why is she doing this? Shalu and Bani can't believe what Lakshmi said and ask her again. Shalu says she will call Rishi. Lakshmi says there is no need to call Rishi and says it is her decision to marry Balwinder and leaves from there. Balwinder asks if everyone heard what Lakshmi said. Rano praises Balwinder as he made Lakshmi agree for the marriage. Rano reminds Balwinder that he needs to give him the rest of the money. Balwinder agrees. Malishka reminds Rishi of their college days and asks Rishi if he is going to give her a surprise. Rishi stays silent. Shalu and Bani think of how to convince Lakshmi to stop this marriage they decide to pray to God to show them the way.
Lakshmi sees a woman trying to commit suicide by hanging herself. Lakshmi breaks into her room and saves the woman. The woman asks Lakshmi to allow her to die. kamli sees Lakshmi and asks Lakshmi why did she come here and says she is the reason for her committing suicide. Lakshmi says she doesn't know her and asks Kamli how is she responsible for her suicide attempt. Kamli says she saw with her own eyes that Lakshmi said yes to marry Balwinder. Kamli says Balwinder promised her that he would marry her and says now she is pregnant with Balwinder's child. Lakshmi gets shocked hearing this. Lakshmi says she didn't know about this and apologises to Kamli. Lakshmi encourages Kamli not to die and says she will also support her. Kamli thanks Lakshmi for supporting her and says Balwinder should never know that she met her( Lakshmi). Kamli shows the wounds that Balwinder made as once she took Lakshmi's name. Lakshmi says she will not tell Balwinder.
Lakshmi gets into a dilemma about what should she do. Lakshmi after thinking for a whole decides to do marriage of Balwinder and Kamli without telling anyone.
Balwinder decides to marry Lakshmi as quickly as possible and tells Rano about it. Rano advises Balwinder that he needs to take Lakshmi to a place where Rishi and her sisters can't find her. Balwinder agrees. Rano reminds Balwinder of the money that he needs to give. Balwinder agrees to give the money and leaves from there.
Rishi brings Malishka to Rano's house. Rano comes and asks Rishi why did he come here? Rishi says he wants to talk to Lakshmi and goes to find her. Rano asks Malishka why did she bring Rishi here? Malishka says Rishi brought her here. Rishi sees Lakshmi.
Episode ends.
Also See: