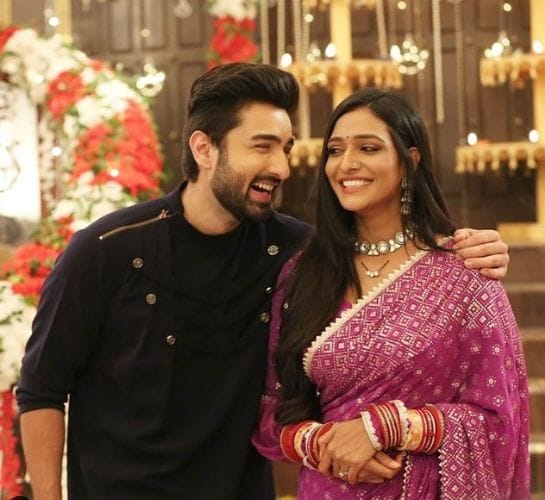 BhagyaLakshmi 14th September 2022 Written Update On TellyExpress.com
The episode starts with Balwinder stopping Lakshmi from leaving. Shalu starts beating Balwinder with a stick. Balwinder says to Shalu that he is saving Lakshmi. Lakshmi asks Shalu why is she here. Shalu says I came along with you to save Rishi. Balwinder comments on it. Shalu and Lakshmi leave Balwinder. Dadi and Devika ask the ACP to let them in but he doesn't let them. Reporters questions Dadi on how she feels as her whole family is the hostage. Dadi counters him with the same question.
Ayush tries to convince the cops to let him in but they don't let him. Ayush goes inside by pushing the inspectors. Rano goes along with Ayush.
Abhay and Malishka talk about Balwinder. Malishka thinks of an idea and says to Abhay that she had to become great in Neelam's eyes. Abhay asks if he is going to fight the terrorists. Malishka says she will do it if she has to.
When Malishka decides to go. Karishma, Sonia, and Kiran see her. They talk about Malishka. They also see Lakshmi and Shalu running and they think they are running away from here. Sonia advices that they should go after Lakshmi and Shalu. Karishma doesn't listen to her advice. They also see Ayush, Bani, and Rano running. They decide to go after them.
Monish asks Balram if everything is ready. Balram says everything is in place. Monish says they have to make some changes in their plan and says the Oberoi's are here and the police will do anything to save them. Rishi thinks this is a good chance to get out of here. Rishi sees Malishka and asks what is she doing here. Malishka says she is worried about them and came here. Malishka helps Rishi and his family. Neelam praises Malishka for the courage she showed. Virendra says she can praise later and asks Neelam to first leave this place.
Dadi gets worried about Neha as Lakshmi's family is also here. Dadi calls Neha and talks to her. Dadi says that her family is going to be fine and says to Neha to pray to God. Monish sees Rishi and others are trying to run away. Monish asks Rishi who is Malishka and asks him how many women are there in his life. Neelam warns Monish to mind his language. Monish holds Malishka by the neck. Rishi asks Monish to leave Malishka. Monish doesn't. Rishi starts beating the terrorists. Monish gets irritated with Rishi and shoots him. Lakshmi pushes Rishi away and she gets a gunshot wound on her arm. Monish says to Rishi that he misunderstood Lakshmi and praises Lakshmi. Rishi and Lakshmi show their care for each other infront of everyone. Monish threatens Rishi that he will kill Lakshmi if he doesn't stop this drama.
Rishi holds Monish by the collar and threatens he will kill him even if he thinks about killing Lakshmi. Ayush comes and sees this and comments on it. Ayush and Shalu start beating the terrorists that came to beat them. Rishi asks Lakshmi if she is alright. Lakshmi says she is fine. Lakshmi defends the terrorists by attacking them. Rishi asks what is she doing. Lakshmi says she is attacking to defend him. Rishi says he will do it. Rishi asks Ayush to take the people here outside. Ayush says all the exits are blocked. Rishi says he saw a broken door and they can leave from there. Ayush starts taking some people outside disguising himself as a terrorist. Ayush runs into the real terrorist. The terrorist asks where is he taking them. Ayush says he is going to lock them in the other room on the orders of Monish Bhai. Rishi sees Sonia. Monish holds Rishi at gunpoint.
Episode ends.
Also See: