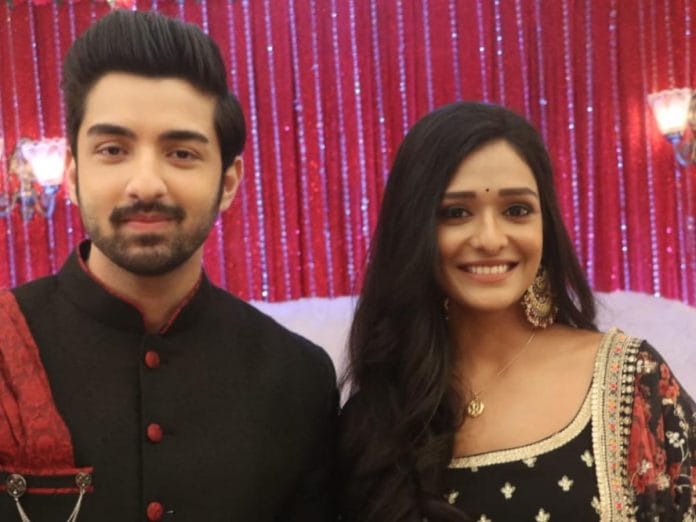 BhagyaLakshmi 18th January 2023 Written Update On TellyExpress.com
The episode starts with Malishka saying to Sonal that she hopes Rishi will forget Lakshmi soon. Sonal says Rishi will forget Lakshmi but she will not. Malishka comments on it. Sonal advices Malishka to make sure Rishi doesn't recall Lakshmi. Malishka says she knows what to do? Malishka says she will go on honeymoon with Rishi right after the marriage for 3 to 4 months. Sonal asks Malishka where will she go? Malishka says she will go to Bali. Sonal says Bali is a boring place. Sonal advices Malishka to go on a Europe tour. Malishka says she will decide her honeymoon trip, not her and leaves from there.
Ayush gives clarity to Balwinder that this money is for him to leave Lakshmi. Balwinder says with this money they have bought Balwinder. Ayush warns Balwinder not to act smart after he took the money and asks him to leave. Balwinder leaves from there.
Rishi hears Lakshmi's voice and goes looking for it. Rishi sees Dadi looking at a video of Lakshmi singing. Dadi says some people's voice touch other's hearts. Dadi asks Rishi if Lakshmi's voice touched Rishi's heart. Rishi stays silent.
Guddu calls Balwinder. Balwinder gives the good news to Guddu that he got rs 5 crores to leave Lakshmi. Guddu asks Balwinder if he is going to leave Lakshmi. Balwinder says the money is also his along with Lakshmi. Balwinder says he will come and tell him later. Ayush punches Balwinder as Balwinder thought of double crossing them. Ayush says to Balwinder it is their mistake as they thought they can get rid of him with money. Balwinder comments on it and says until now they have Lakshmi so luck is on their side. Balwinder says once he marries Lakshmi he will earn 500 crores with her luck. Balwinder leaves from there.
Rishi says to Dadi he doesn't know what he should think of his fortune as at first he loved Malishka and then married Lakshmi now he divorced her and is now marrying Malishka. Dadi also comments on it and worries about Lakshmi marrying Balwinder.
Kamli runs into Balwinder. Kamli asks Balwinder how can he marry someone else? Balwinder asks Kamli who told her? Kamli says his friend told her. Balwinder admits to Kamli that he is marrying Lakshmi. Kamli asks Balwinder then what about their child. Balwinder says he doesn't know anything about that child. Kamli tries to plead with Balwinder not to deceive her but Balwinder pushes Kamli on the car. Balwinder warns Kamli that his time is good and asks Kamli to leave the city. Balwinder leaves from there.
Guddu says to Balwinder that he brought a suit for him. Guddu asks Balwinder what happened about the 5 crores? Balwinder says he is not getting it as Ayush took it away. Balwinder says Ayush overheard them talking and punched him took the money. Guddu says he should have punched Ayush. Balwindar says he didn't fight with Ayush seeing Virendra there. He says he should marry Lakshmi quickly. Balwindar asks Guddu to prepare for marriage and leaves from there.
Rano closes the door. Someone knocks on the door. Rano opens the door in fear and she sees Balwinder and beats him why he came in the night. Balwinder asks Rano to get him married to Lakshmi by tomorrow itself. Rano asks what's the reason behind his urgency. Balwindar says it's needed. Lakshmi requests her sisters to talk to her. Rano calls Lakshmi. Lakshmi and ger sisters come out of the room. Rano tells Lakshmi that tomorrow is her marriage with Balwinder. Shalu and Bani say they won't let the marriage happen. Balwinder says he will marry her. Bani asjs Rano to make Balwinder understand that pre wedding rituals are needed so postpone the date. Rano asks why she changed suddenly. Balwinder says she is doing it so they can have time to stop the marriage.
Episode ends.
Also See: