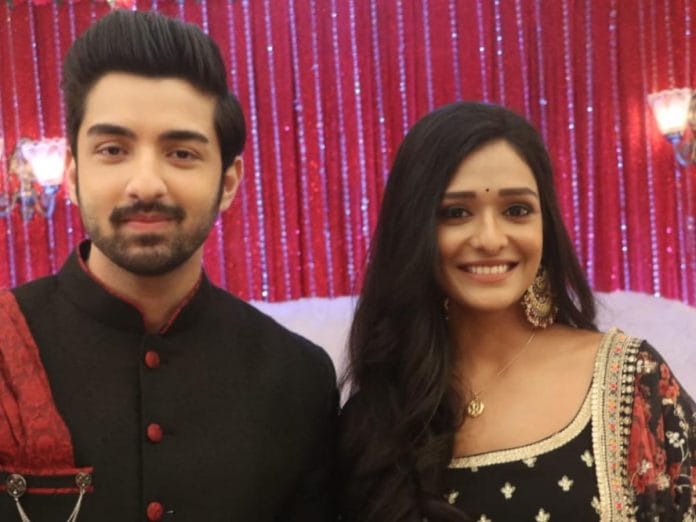 BhagyaLakshmi 21st November 2022 Written Update On TellyExpress.com
The episode starts with Kiran hitting Malishka and asking her to stop this drama. Malishka asks Balwinder to record her video. Lakshmi comes to the disco and shows the photo of Malishka to the staff. The staff says he didn't see Malishka. Lakshmi says she heard Malishka is going to come to Muse spot bar. The staff says she is mistaken and says this is a musse spot bar. Lakshmi sees the bar name and understands that she is mistaken. Lakshmi thanks the staff and leaves from there. Balwinder's friend sees Lakshmi asking about Malishka and asks if he should tell Balwinder about it.
Malishka acts infront of the video. Virendra accidentally hits a rod. Kiran hearing the sound asks if anyone came here. Balwinder says no one would come here. Malishka asks Balwinder to take this video and make sure it reaches Rishi. Balwinder gets a call from his friend saying Lakshmi is looking for Malishka. Balwinder thanks his friend and says he will get a bottle and cuts the call. Balwinder says Lakshmi came looking for Malishka into the bar. Kiran says Lakshmi will do anything to prove herself innocent and says her plan will fail. Balwinder also agrees.
Lakshmi says to Ayush that she went to the wrong bar. Ayush says no problem and says he is looking around Malishka's house for some clues and hopes they will get a lead before they reach home. Lakshmi agrees.
Balwinder sees Virendra coming. Balwinder says to Kiran and Malishka that Virendra is here. Kiran and Malishka hide from Virendra. Balwinder clears their traces. Balwinder decides to hit Virendra with a stick if Virendra sees him. Kiran asks Virendra why did he come here?
Karishma says she can't stand Lakshmi and says she hopes Lakshmi will be in jail forever. Karishma asks Neelam why is she silent. Neelam says she is waiting for a good chance. Lakshmi comes to the bar and sees the receptionist. Lakshmi asks the receptionist if she saw Malishka by showing the photo.
Virendra asks Kiran where is Malishka? Kiran says Malishka isn't here. Kiran asks Virendra why is he here? Virendra says he was following her as she is coming here alone. Kiran thanks Virendra and says she thought she saw Malishka and came here. Lakshmi asks the receptionist to show her the CCTV footage of last night. The receptionist agrees as she is from the Oberoi family.
Kirana asks Virendra to ask Lakshmi where is Malishka? Virendra says he will not believe that Lakshmi kidnapped Malishka and says Rishi will also not believe it. Virendra asks Kiran to come out. Virendra says one minute and says he saw a girl there. Kiran thinks Virendra saw Malishka. Kiran says there is no one there. Virendra says he will go and look once. Lakshmi doesn't find Malishka coming and going in the CCTV footage and understands she didn't come to the bar last night. Virendra goes to the place. Kiran thinks Malishka's game is over.
Bani worries about Lakshmi. Bani asks Shalu what happened? Shalu says they are stuck at the same place and says they can't understand how they can prove Lakshmi is innocent. Shalu says they can only prove Lakshmi by finding Malishka and says they will get all the answers after finding Malishka.
Abhay asks Lakshmi where is her daughter? Lakshmi says she doesn't know where is Malishka and says where ever she is it will come out soon. Lakshmi thinks even now Kiran and Abhay think she is the one who kidnapped Malishka.
Virendra sees Malishka but he doesn't feel that it is Malishka as she rubs grease all over her face and disguises herself. Kiran also asks Virendra if they can leave. Virendra says yes. Kiran feels relieved as Virendra didn't identify Malishka. Karishma asks Lakshmi to show her proof that she is innocent. Karishma asks Lakshmi if she went to buy proof of her innocence. Lakshmi says she didn't do that and says one day the truth will come out.
Episode ends.
Also See: