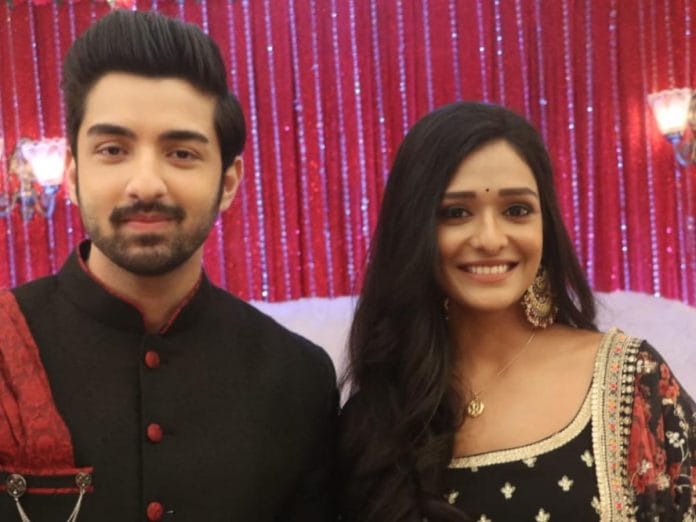 BhagyaLakshmi 26th October 2022 Written Update On TellyExpress.com
The episode starts with the inspector saying to Rishi that he is free now with a clean chit. Malishka and Ayush hug Rishi and congratulate him. Rishi thanks the inspector. The inspector says he should say thanks to Lakshmi. The constable comments and says Lakshmi loves Rishi very much. Balwinder gets frustrated thinking everything is going against him and breaks the furniture. Kiran hearing the noise recalls what Rishi said and thinks Balwinder came to kill Malishka. Kiran takes a rod and looks for Balwinder.
Ayush says to Rishi that he got out and he should celebrate with Lakshmi. Ayush gives Rishi the bike keys and says he should take Lakshmi out. Rishi also praises Lakshmi and says they will be always together. Malishka says Lakshmi will be with him only until the divorce. Ayush asks Malishka if she can't stand someone seeing happy. Rishi says nobody knows the future and we should enjoy the moment and asks Lakshmi to come. Lakshmi takes Rishi's hand and says her happiness is with him.
Rishi helps Lakshmi put on the helmet. Lakshmi helps Rishi put on the helmet. They both go on a bike. Ayush sees Malishka jealous and teases her. Ayush says he will drop her but Malishka doesn't say anything and gets in the car. Malishka blames Balwinder for whatever happened.
Kiran sees Balwinder and tries to close the door. Balwinder stops her and tries to explain to her. Kiran says she will call the police as he came here to kill Malishka. Balwinder says he wouldn't do that and says Malishka is his lifeline. Balwinder says Malishka asked him to stay here and to prove it he is about to call Malishka but Kiran stops Balwinder and says Malishka is with Rishi. Balwinder begs Kiran to let him stay here.
Rishi asks Lakshmi if she ever thought she will go on a bike with him. Lakshmi says no. She says she only thought her and her husband will be happy together. Ayush drops Malishka at her home. Rishi and Lakshmi stop at a place. Lakshmi asks Rishi why he parked the bike here. Rishi says he took her here to fulfill her dream.
Malishka comes to her house. Malishka sees Balwinder and starts hitting Balwinder and says because of his mistake now Rishi and Lakshmi are together. She says Lakshmi gave Rishi the pen drive and Lakshmi became great infront of everyone. Balwinder says he didn't do anything and says he stayed here. Kiran asks Malishka what happened. Malishka says Lakshmi went with Rishi. She says Lakshmi is taking her place and cries on Kiran's shoulder. Balwinder says he wants to kill Rishi.
Lakshmi asks Rishi what is her dream that he is talking about? Rishi reminds Lakshmi saying she once said she wants to go on a walk with her husband on a road when there is cool weather. Rishi asks Lakshmi to come with her. Rishi and Lakshmi walk on the road. Rishi asks Lakshmi if she dreamt anything more. Lakshmi says this is it and says if he wants he can talk or stay silent and says sometimes silence also speaks a lot. Rishi agrees.
Episode ends.
The episode starts with Neelam saying there is only one person who can do a miracle like this and says it's Rishi. Dadi says it is not Rishi and says it is Lakshmi. Ahana also praises Lakshmi. Karishma comments on Lakshmi. Virendra asks Karishma to leave it. Virendra asks then how did they know first. Ahana says they heard when Rishi said to Ayush about it. Dadi says Lakshmi told him and says she knew first before them. Dadi says she needs a reward for this good news. Virendra agrees. Virendra asks them if they saw the footage then they should also know who is the real culprit. Ahana says Rishi didn't say anything about the real culprit. Neelam says she wants to see the real culprit to be hanged as Rishi suffered a lot because of him. Dadi agrees.
Malishka hears someone knocking on the door. Kiran opens the door. Kiran sees Rishi bring the police to Malishka's house. Balwinder sees Rishi come with the police and thinks Malishka double crossed him and tries to leave from there. Balwinder thinks if she wanted to call the police then she would have called yesterday and decides to check what is going on first.
Rishi comes and asks Malishka that he never thought she would do something like this and says he saw the footage and says he got the pen drive. Rishi says he saw the whole truth. Rishi says he went to the police station with Lakshmi and Ayush. The inspector looks at the footage. Lakshmi asks if with this Rishi will be released or not. The inspector says Rishi will be released. The inspector goes to get the real culprit. Rishi says he will also come with them. Rishi says he went to Balwinder's house and but he didn't find him there and says he only found his phone that Balwinder stole. Balwinder thinks Malishka also got caught along with him. Rishi says to Malishka that she hurt his
Also See: