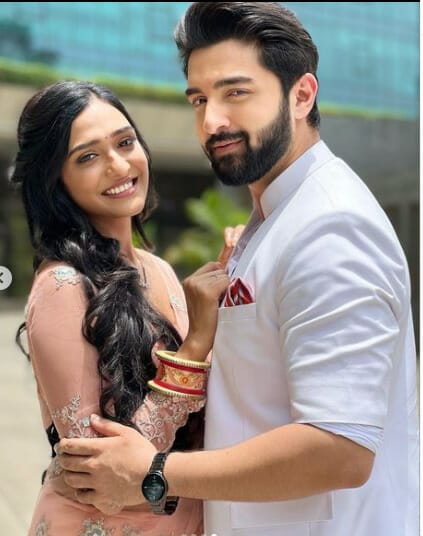 BhagyaLakshmi 31st August 2022 Written Update On TellyExpress.com
The episode starts with Shalu asking Ayush about accident. Ayush teases her. Shalu beats him for teasing her as there is no accident and he just lied to get her out. Ayush says to Shalu that Rishi has come and has gone to the police station to get Lakshmi out of jail. Shalu hugs Ayush in happiness. Ayush and Shalu talk about difference of hugs. Shalu shows him difference between a friendly hug and other hug. But when she hugs Ayush she feels something and gets out of it. Ayush takes Shalu in the car.
Rishi goes to Lakshmi and talks to her. Lakshmi asks Rishi what is he doing here. Rishi says he is playing cat and mouse with the police. Lakshmi asks why is he doing that. Rishi says he came here to give something and he gives Lakshmi something and gives his word to Lakshmi that he will her get out of jail soon. The police take Rishi from there forcefully. The constable and jail inmates talk about Rishi and Lakshmi's love.
Malishka thinks of how to seperate Lakshmi and Rishi. Kiran comes and tells Malishka there is a good news for her. Malishka asks what is it. Kiran says Neelam gave her word that she will be this house daughter in law. But Malishka doesn't feel that much happy. Kiran says to Malishka that Neelam will do whatever it needs to keep her word. Malishka agrees.
Ayush and Shalu go in the car. Ayush tries to talk to Shalu but Shalu doesn't and tells him to concentrate on driving. Ayush plays songs on the radio. On the radio they are romantic songs playing. Shalu thinks of what happened and asks him to stop humming songs. Ayush doesn't. Shalu asks to stop the car. Ayush stops the car. Shalu gets down from the car. Shalu and Ayush talk about the radio and the songs in it. Shalu feels uncomfortable talking about it. The constable sees it and comes to them to ask what happened. The constable asks Shalu if he is teasing her. Shalu says yes. The constable is about to take Ayush to the police station. Shalu says he is not that bad and stops the constable. The constable forces Ayush to say sorry. Ayush apologises to Shalu. The constable leaves them. Ayush and Shalu get in the car. Ayush drives the car rashly to scare Shalu and says sorry for driving rashly but he still drives rashly. Shalu apologises to Ayush for what she did with the constable. Ayush and Shalu apologise to each other.
Ayush and Shalu reach the police station. They see that the cops are carrying Rishi and put him down when they come out of the police station. Ayush asks Rishi why is getting carried by the cops. Rishi says he is happy for getting carried by the cops. The cops comment on it. The lady constable tells Rishi that Lakshmi's case hearing is after two days and if he wants to get her out it will be only after two days. The cops go inside. Rishi says to Ayush and Shalu that he met Lakshmi inside. Shalu says you met but you can't get her out for 2 days. Rishi says there is no need to worry and says he will get Lakshmi after 2 days and says this is his promise to her.
Episode ends.
Also See: