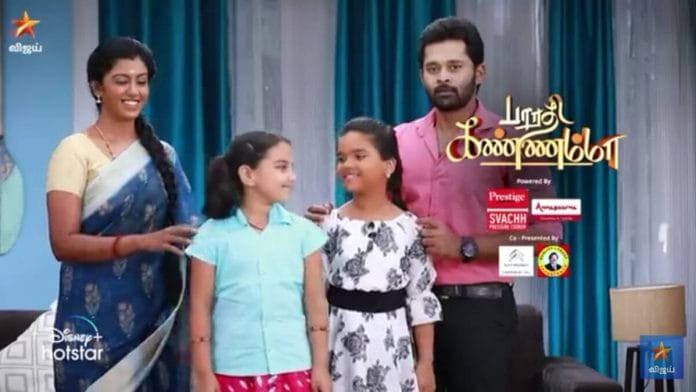 Bharathi kannamma 13th January 2023 Written Update on TellyExpress.com
The episode starts with Kannamma mocking Paandi in front of villagers. He says to Paandi that he isn't a real man. If he beat someone will he mention him as man? Kannamma adds that his father is searching a bride for him. But he is good for nothing. Villagers asks the president to take him to the hospital. He feels embarrassed there. Kannamma keeps mocking at him. Kannamma says to one lady that she doesn't have any relationship with him. She asks them to support her. If they mock at Paandi then he will reveal the truth to everyone. Few girls says that he is good for nothing. He don't need a person like Paandi. Her life will be a question mark if she married to him. Villagers starts mocking at Paandi. He gets frustrated hearing it. Paandi asks them to stop gossiping about him. It's a lie. Villagers asks him to explain it.
Paandi reveals to them that he has no relationship with Kannamma. He didn't touched Kannamma. Villagers says that his henchman said to everyone he has relationship with her. They demands them to take back the trophy from him. He isn't deserved this title. Paandi reveal to them that his henchman lied to everyone. He is saying the truth. Paandi adds that Kannamma started a business against him. He doesn't like it. He tried to stop her but she slapped him. He decided to take revenge on her. He revealed the truth to everyone. Villagers lashes out at him for created a misunderstanding. Because of him they misundertood an innocent soul. They mentions him as coward. She adds that Kannamma brought a scooty. He created this rumour at the same time. That is why everyone misundertood her. Kannamma thank everyone.
Kannamma asks the villagers to stop believing the rumours. When a lady standing in her own leg. Everyone are getting doubts how she will lead her life? But no one questioning a man here? If she buy a own house or vehicle they are thinking she sold herself to buy it. It's a poor mentally of our people. But as a woman they didn't supported another woman here. They shouldn't have treated her like that. They are easily believing the rumours instead of supporting her. She asks Paandi why he is thinking her as his competetor? He fails to convince her so he tried to ruin her name. It won't give good name to him and his father. He isn't a real man. His father feels embarrassed there. Kannamma warns them to stop creating rumours about her. She threatens to cut his tongue, if he dare to create a rumours against her.
Kannamma shares a social message to girls. If someone tries to threaten them taking their videos or photos. They shouldn't be scared of it. They wants to fight for their rights. Villagers demands President to take a decision in his son matter. They demands him to apologise to Kannamma. Paandi refuses to apologise to her. Bharthi stops him. Bharathi says that his wife is bold and intelligent. She proved her innocence. Though Paandi isn't ready to regret his mistakes. He wishes to teach a lesson to him. Kannamma asks him to don't poke his head in it. Bharthi challenges him for wrestling. Bharthi and Paandi are fighting with each other. Bharathi wins Paandi. He throws sand on Bharthi's eyes and attacks him.
Episode end.