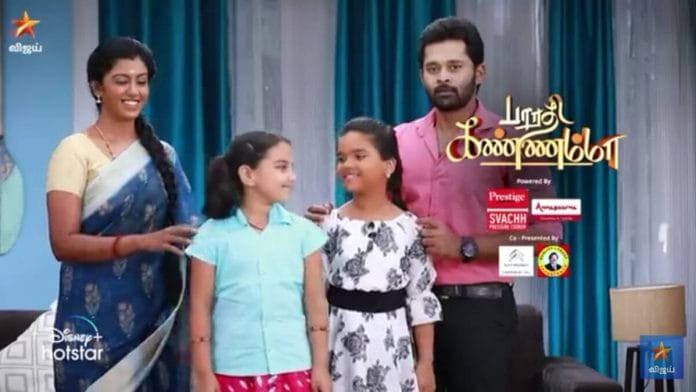 Bharathi kannamma 17th January 2023 Written Update on TellyExpress.com
The episode starts with Soundarya reached to the hospital. She inquiring Ganapati about Bharathi. He informs her that he didn't gained concious yet. Doctor comes there. Soundarya inquires him about Bharathi. The doctor reveals to her that Bharathi got beaten on his back of head. Blood was clotted there. He even lost blood. He is still unconcious. He didn't crossed the critical stage yet. Soundarya emotionally breaks down hearing it. Akhil asks Ganapati does Kannamma aware of Bharathi's state? Ganapati tells him that Kannamma is aware of his state. When he was hurt he took him to hospital. Kannamma didn't follow him. Soundarya gets hurt to hear it.
Kannamma remembers the past. She couldn't sleep remembering Bharathi. She is walking to and forth in room. Later, Pooja informs Lakshmi that Hema is sitting alone. Lakshmi asks Hema doesn't she want to see Bharthi? He was in critical stage. Doesn't she want to meet him in this stage too? She is still angry on him. Pooja asks her doesn't she know about her dad? Hema says that he is working in abroad. Pooja denies it reasoning he is died. When he went to work in abroad, he died there unfortunately. She used to cry in her childhood days to meet him.
Grandpa lied to her he was working in abroad. Later he revealed the truth to her he was died. He hide the matter from mom not to hurt her. Pooja says that Hema is angry on her dad. She is hating him and ignoring him. At least she has dad to pour his love on her. He wants to keep her close with him. He is ready to do anything to ger her love. But Hema isn't recognise his love. She don't understand his love when he is with her. She will regret later. She will miss him and crave for his love after he left her. Lakshmi says that no one will able to explain it better than to her. Lakshmi notices Kannamma sitting alone.
Lakshmi asks Kannamma to fulfill her wish. She wants to meet Bharathi. Her heart isn't in peace after heard dad was in critical stage. She hopes that dad will open his eyes hearing her voice. She pleads with her to give permission to her. She doesn't want to accompany her. She will take Tamarai with her. Lakshmi gets irritate seeing Kannamma in silent. She tells her that she doesn't care whether she stops talking with her for it. Hema comes there and shares with Kannamma that she wants to meet Bharathi too. She was angry with him but she couldn't control her after hearing he was in danger. Bharathi took care of her well these many years. He fulfilled all her wishes. She regretting her mistakes. She pleads with her to let them meet Bharathi. Kannamma assures her daughters to take them to hospital.
Tamarai shares with Kannamma that she heard her conversation with her daughters. She thought she will refuse to go with them to meet Bharathi. She thank her for changed her decision. Tamarai informs her that she will accompany her to hospital. Kannamma closes the door. Hema suggests Kannamma to pray in temple for Bharathi. Kannamma shares his stars and do prayer for him. Bharathi prays god to cure Bharathi and unite her parents asap. Hema prays for Bharathi's health.
Episode end