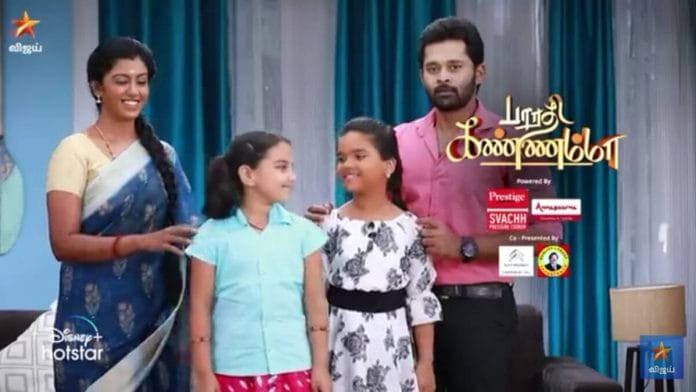 Bharathi kannamma 18th January 2023 Written Update on TellyExpress.com
The episode starts with Kannamma bringing her daughters to meet Bharathi in the hospital. Soundarya gets surprised to see Hema there. Kannamma shares with Soundarya that children want to meet him that's why she brought them here. Soundarya says that Bharathi was worried about Hema. He said to her that Lakshmi accepted him but Hema was angry with him. He will convince her asap. Tamarai tells her that Bharathi is a good person. God won't punish him. He will get better. Today Hema is here to meet him. She adds that she hopes he will open his eyes hearing her voice. Later, everyone enters inside to meet Bharathi. He is in an unconscious state. Hema says to Bharathi that she isn't angry with him anymore. She won't ignore him. She loves him. Hema applies sacred Ash on his forehead. Lakshmi does the same. Soundarya asks Kannamma to do it. She hesitates to do it.
Akhil asks Soundarya to stop forcing Kannamma. Soundarya says to him let's see whether he opens his eyes or not? The doctor comes there for a regular check up. Soundarya inquires him when will Bharathi gain his consciousness. The doctor tells her that he is giving the best treatment to him. Let's hope for the best. Soundarya informs him that she knows the best neurologist. She will bring him here. The doctor nods with her. Kannamma informs Soundarya that she wants to leave. She takes the children from there. Meanwhile, Kannamma remembers Bharathi's health and cries. Tamarai notices her and inquires about what happened? She says to Kannamma that she is worrying about Bharathi. It's pure love.
Kannamma asks her to stop mentioning it as love. Tamarai says that she is crying for Bharathi. She prayed for him. Did she try to deny her feelings about him? Kannamma clears with her it's not love. But she is worried about him. Bharathi may have given pain to her. Even though she separated from him for the last 10 years. But they saw each other. She isn't able to see him in such a state. He is a good son. She isn't a cruel person to show her anger in him in this state. She worries for him. Tamarai gives space to her and leaves. Soundarya shares with Anjali it has been 3 days, though Bharthi didn't gain his consciousness yet.
Akhil tells her that special neurologist to check him. Deepak comes there to give a treatment to Bharathi. He assures Soundarya to cure him asap. He checks his medical reports. He is discussing with the doctor about his reports. Bharathi gains his consciousness. Deepak asks Bharathi did he know him? He denies it. Deepak asks the nurse to call his family members. He asks Bharathi to recognise them. Bharathi informs them that he won't recognise them. Soundarya is shocked to see his state. The doctor asks them to wait outside.
Episode end