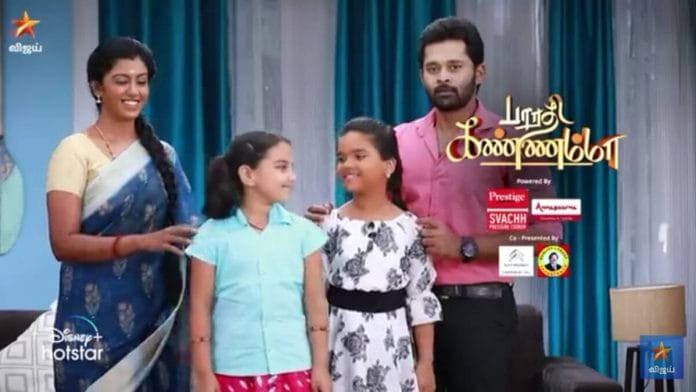 Bharathi kannamma 21st December 2022 Written Update on TellyExpress.com
The episode starts with Bharathi lies to Soundarya that he is eating and disconnects the call. Both Bharathi and Ganapati are starving. Bharthi ties the towel on his stomach and falls asleep. Someone place the food beside him and wakes him up. Bharathi misunderstands that Ganapati wakes him. Ganapati tells him that he is starving how will he wake him? Ganapati says that may be it's ghost. Bharathi says that he really felt someone wake up him. He notices a plate beside him. Both Ganapati and Bharathi gets excited seeing the food. Bharathi tastes the food and says it's Kannamma's cooking. Ganapati asks him does Kannamma kept this here? Bharathi denies it reasoning Hema did it. Ganapati says that she is a good daughter of him. Both enjoys the food there
Bharathi arranges the medical camp in the village. Ganapati announcing it to villagers in Mike. Ganapati says that Bharathi will give treatment to everyone for 5 rs. Neighbour gets excited hearing it. Another one asks her to don't take treatment from him for 5 rs. Then villagers will isolated her. She leaves from there. Hema and Lakshmi gets ready to go to school. They notices Bharathi there. He waves his hands at them. Kannamma asks them to stop staring at him. Thamara says to Kannamma that her husband looks handsome in doctor dress. She asks her to don't mention him as her husband. She says that it seems he will develop his business here. Kannamma tells her that she doesn't care about it all.
Bharathi notices the crowd there. Bharathi rushes there to check what's going on here. He learns that snake biten a person. Bharathi tries to give first aid to them but Village president stops him. He says that they isolated him from this village. They won't accept his help. Bharthi gets disappointed seeing it. They takes that person from there. Bharthi complaints to Ganapati that they are not ready to take his help. Ganapati says that villagers are adamant in their decision. He doesn't know how will he convince them? Bharathi says that he wants to convince them. Let's wait patiently. He notices a letter from his table. Kannamma has head ache from morning. She asks him to buy a medicine for her. Bharathi gets happy and leaves from there.
Kabnamma informs to Grandma that her heart aching. She is going to take rest. Bharathi greets her. Kannamma asks him whom allowed him inside the school? She asks the security come here. Bharathi tells her that he is able to understand why she is angry at him. He brings medicine for her head ache. Kannamma asks him who he is to buy medicine for her? She demands him to leave from there. Grandma takes Kannamma from there. Bharathi meets Hema in school. He says to Hema that he waited to see her alone. He thanks her for her help. Hema stares him in confusion. Bharathi assured her that Kannamma won't see them together. He shares his grief to Hema. He thanks her for understanding him. Hema demands him to stop troubling her. She doesn't like him at all. Bharathi gets disappointed to see her attitude. He doubts who helped him secretly? Lakshmi comes there.
Episode end