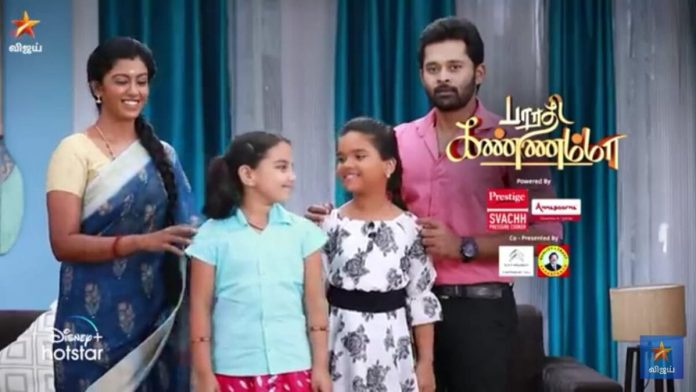 Bharathi kannamma 22nd June 2022 Written Update on TellyExpress.com
The episode starts with Bharathi asks Kannamma to stop poking her head in Hema's life. He asks her to leave from there. Kannamma says to Soundarya that Hema is her daughter how could he ask her to poke her head in Hema's life. If she reveal Hema's birth truth to him what will he do?
She gonna take her daughter with her. Venu asks her to be calm down. Akhil asks them to stop supporting Bharathi like this he is doing too much. Venu asks him to stop provoking her. Kannamma complaints that Bharathi is talking nonsense. She returns his phone to her and complaints she came here to give it because he missed it in hospital and leaves.
Soundarya shares to her family that she can understands Kannamma's feelings. As a mother it's hard for her to hide Hema is her daughter. Later Lakshmi is watching serial with Kumar. Kannamma comes there. Lakshmi complaints that she is late today. Doesn't she care for her daughter? She is not caring about her that's why she is late.
Kannamma asks her if she doesn't care about her then she wouldn't have asked Kumar to take care of her. Kumar leaves from there. Lakshmi demands Kannamma to share why did she late today? Kannamma informs to her that Hema fainted that's why she went to meet her in home. Lakshmi feels bad for her.
Kannamma learns from her that Hema didn't eat anything. Kannamma advises her to take care of her sister in school. Lakshmi asks her Is Bharathi lashes out at Hema when she take Divorce topic. Kannamma advises her to stop worrying about this all in this young age. She asks her to concentrate on her studies and take care of Hema.
Venba calls Bharathi and cries in phone. She asks him doesn't he know the reason why is she crying? She never expected he will do like this? He questions her what happened? She says that she is a fool that's why she she is always behind him even after he rejected her love. How could he insult her in front of Kannamma. She is loving him truly do he don't understand her pain at all. Only she knew the pain to miss the nuptial chain. Her mom too advised her that Venba is loving Bharathi but he has no feelings on her. Venba talks with him in provoking way he tries to convince her.
Venba is adamant to wait for him patiently till he marry her. Bharathi thinks about Hema and doubts how will he solve this issue? Hema wakes up and rushes to go to school but Bharathi asks her to take leave. Bharathi tells her that they are going out.
Episode end.