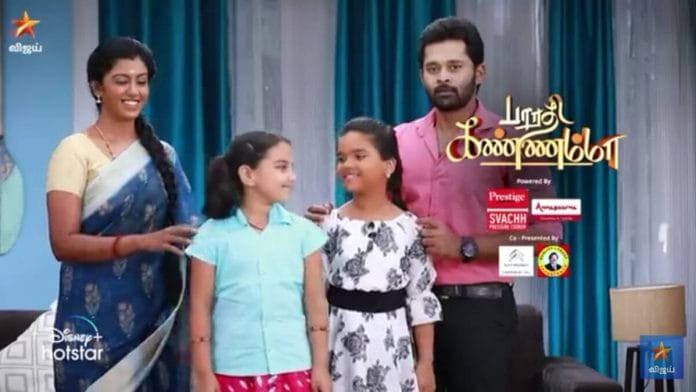 Bharathi kannamma 28th October 2022 Written Update on TellyExpress.com
The episode starts with Sharmila welcoming Soundarya's family members. She says to Soundarya that she is late. Soundarya tells her that she got late due to traffic. Sharmila inquire Venu about his health. He tells her that he is doing better now. She asks her where Bharathi is? Soundarya tells her that he didn't accompany them. Sharmila asks her how will this marriage take place without Bharathi? Akhil tells her that this marriage won't take place without Rohith not Bharathi. She informs her that Kannamma and Lakshmi already came to function.
Kannamma asks Soundarya where is Bharathi? She tells her that he went to attend a medical conference. Kannamma shares with her that he doesn't have any medical conference today. She used to arrange schedule for him. Even he is on Leave today. She thought that he is taking leave to attend Venba's wedding. Soundarya says that he may have any other work. She asks her to leave this matter. Kannamma thinks that something is wrong.
Rohith sits in the mandap. He chants the mantras along with Priest. He asks Rohith to change his attire. After him Venba reaches there and starts rituals. Sharmila asks Shanthi to take Venba from here and bring her back after she change her wedding sarie. Kannamma thinks that it's not Venba's attitude. She planned something else. Later, Sharmila asks Venba to change her sarie asap. Venba send Sharmila from there. Kannamma feels nervous there. Venba plans something else. Sharmila asks Shanthi why is she standing outside? Didn't she ask her to help Venba. She tells her that she is shy type. That is why she asks her to wait outside. Sharmila asks her to bring her asap.
Meanwhile, Rohith returns to Mandap. Akhil says to Anjali that he wants to go to Tirupati. He prayed to go there by walking if Venba's wedding over. But it's happening after long years. Soundarya says to Kannamma that she shouldn't forget this day in her life. Her enemy going out of her life today. Kannamma tells her that she shouldn't expect this much. This wedding won't take place. Soundarya asks her why is she saying like that? Kannamma tells her that it's not Venba's attitude. She is planning something to stop this wedding.
She is damn sure she has some other plans with her to stop this wedding. She doesn't know the reason but it's the truth. If she doubt her she can wait and watch it. Priest asks them to bring the bride. Everyone feels that bride taking time to come back. Sharmila gets frustrated when Venba is taking time. She waits for her in mandap. Priest asks Sharmila to bring her asap auspicious time will be over. Sharmila scolds Shanthi for not bring her on time. Shanthi pretends like knocking on door.
Sharmila asks Venba to open the door. Soundary says to Kannamma that Venba didn't return yet. Kannamma tells her that she won't return because she already left from here. Soundarya asks her where she will go in this time? Kannamma asks her to wait and see the result. Akhil stops Rohith and leaves to bring Venba. Soundarya family goes to check her. Sharmila informs her that she isn't opening the door.
Kannamma tells her that she isn't inside. Kannamma suggests her to open the door. Sharmila asks her Is she saying Venba is not there. Kannamma tells her that she shouldn't misunderstand her but she is damn sure Venba isn't here. Rohith leaves from there to check Venba. They break the door and finds that Venba eloped from mandap. Kannamma says that she is planning something big.
Episode end