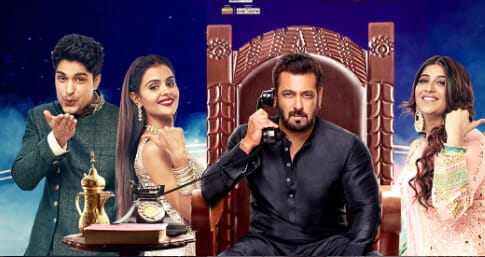 Bigg Boss 16 10th January 2023 Written Update on TellyExpress.com
Today's episode starts with Day 100 at 8:30PM; Bigg boss asks Sajid how he felt when Farah entered the house. Sajid shares his experience on meeting Farah. He thanks bigg boss for bringing Farah in the house. Bigg boss asks Sajid if he ever thought he will celebrate Farah's birthday in the bigg boss house. Sajid says never in his dream.
Bigg boss asks Sajid to interview Farah and bring another shade of his sister in light.
9 PM: Archana cook. Asha waits for Archana at the dining table. Archana and Soundarya join Asha for the dinner. Asha discloses she never has eaten food made by anyone else.
Bigg boss calls Farah and Sajid in the activity area. He asks Sajid to host Farah Khan.
Sajid interview Farah. Farah gets ready. Sajid asks Farah if she is a man. Farah asks Sajid if he is man. Inmates enjoy. Farah and Sajid share their about their childhood memories.
Farah says to Sajid that he is talking nonsense. Sajid tells to everyone that Farah avengd the dances who beaten him up.
Farah says to Sajid that everyone likes the way he takes care of Abdu. Bigg boss praises Farah and Sajid's nok-jhok.
Bigg boss asks Farah to celebrate her birthday with inmates.
Inmates praise Sajid's interview with Farah. Farah celebrates her birthday with inmates.
10:15 PM: Bigg boss asks everyone to freeze. He asks Farah to meet inmates and come out from the house.
Bigg boss release Sajid. Farah asks bigg boss to release inmates. Farah meets everyone.
10:45PM: Asha demands Abdu to hug him. Abdu calls Asha his mother. He says Shiv is brother to him.
11:15 PM; Sajid, Stan, Shiv cracks joke on Sumbul's father again. Stan and Sajid says Touqeer will beat Shalin.
Day 101, 8 AM: inmates gather to sing bigg boss anthem.
8:45 AMl Sajid looks for coffee. Stan says coffee is with him. Sajid asks Stan to bring the coffee.
Asha asks Shiv not to trouble Shalin. She asks to make Shalin a captain as finale is near
Soudnarya asks Tina to keep the coffee bottle in the common raton.
9 AM: Tina tells to Priyanka that Soundarya wants to make the issue of coffee. She says Soundarya wants the coffee to get distributed in 12 contenders. Priyanka decide to raise the issue.
Priyanka and Soundarya argue each other on ration.
11 AM: Yogesh asks Sumbul why she speaks so less. Sumbul says she speaks a lot but don't understand what to say in the house. Yogesh says to Sumbul that he had a very less interaction with her.
Shalin, Shiv and Shiv's mother spend time together.
11:45 AM: Asha asks Shiv to keep his clothes properly. She says he has lots of time. Asha says to Shiv that he only target Shalin. Shiv defends himself. Asha asks Shiv not to hurt Shalin and make him captain.
12PM: bigg boss asks inmates to free. He thanks Yogesh and Asha to meet inmates and come out.
1 PM: Abdu tries to sing Stan's song. Priyanka share with Tina that Yogesh told her that Sajid made Abdu understand that she is friendly with him for footage.
1:45 PM: buzzer ring for Abdu, Shalin. Bigg boss welcome Vahida. Vahida meets Stan, Abdu and other inmates. Stan hugs his mother and gets emotional.
Stan's mother asks Stan to be strong as his fans loving him so much. Shiv meet Stan's mother. Stan's mother asks inmates not to abuse anyone's parents. Archana apologize to Stan's mother. Shalin too apologize.
2 PM: inmates meet Stan's mother. Bigg boss welcome Archana's brother Ghusan in the house. Archana gets emotional. She feels bad her mother didn't come. Gulshan tries to cheer Archana. He asks her not to cry.
Gulshan meet Abdu, Nimrit, Soundarya. He discloses he stopped his mother from coming.Archana breaks the rule by running without bigg boss's order. Bigg boss asks Archana to freeze else he will take the ration.
Archana asks Gulshan why he came instead of mother. Gulshan says her mother send him.
2:30 PM: Archana asks Gulshan to tell mother that she will not talk for not coming.
Bigg boss welcome Nimrit's father Gurpreet. Gurpreet meet Nimrit. Nimrit gets emotional seeing her father. Gurpreet meet mandali.
3:15pm: Gurpreet share a talk with Nimrit. He says to Nimrit that they are proud of her. Abdu share with Stan that he is missing his mother.
4:30 PM: Gushan tells to Shalin and Shiv that he is a dancer. Shiv and Shalin asks Gushan to dance.
4:45 PM: bigg boss explains captaincy task. He tells the rule of BB chicken task. Gulshan, Gurpreet and Vahida becomes the task contender too
5:30 PM: Task start. Tina, Shalin, Abdu, Soundarya, Gulshan, Shiv, Priyanka competes. Shiv wins the first round.
Shiv evicts Soundarya and Tina. He says both already became the captain. Soundarya and Tina becomes the task dictator for net three rounds. [Episode Ends]
Also Check: