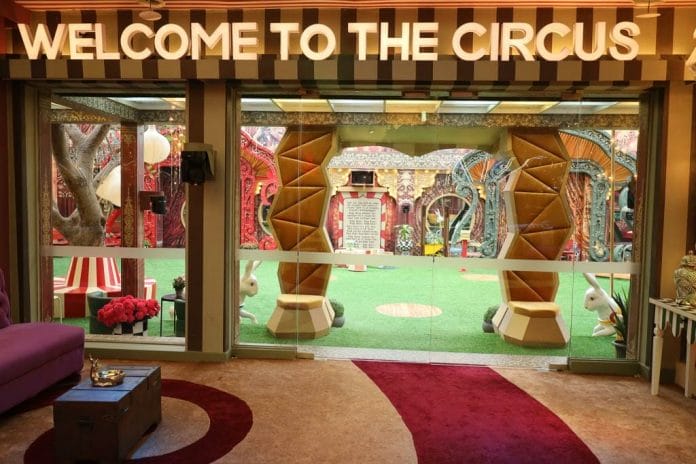 Bigg Boss 16 25th October 2022 Written Update on TellyExpress.com
Today's episode started with Day 24 at 8 AM: inmates wake up and sings Bigg Boss anthem in chorus.
9:45 AM: Shalin says to Tina that Soundarya is an actor. Tina says even Gautam is equally at fault. Shalin says Gautam and Soundarya's love angle is not working..
Soundarya complaint to Nimrit about Archana claiming that even she felt long back that Gautam was interested in her.
11:30 AM: Priyanka argue with Ankit over coffee mug.
Ankit tries to cheer Priyanka. Priyanka complaint that he has stopped understanding her.
1:30 PM: Abdu, Sajid, Nimrit and Shiv enjoy together.
2 PM: Soundarya talks with Gautam. Bigg Boss asks Soundarya to speak in English. Archana asks Soundarya to speak in Hindi so that world can understand their love.
Bigg Boss asks everyone to gather in a living room
Archana asks Soundrya to fulfil her dream by making her eat grapes in the captain room before Bigg Boss fires her.
Tina says instead of Soundarya some boy should fulfil Archana's dream. Archana laughs.
Bigg Boss talks about Nimrit and Soundarya for speaking in English. He apologizes to the Nation. Bigg Boss asks Nimrit and Soundarya to apologize to the Nation and give them an apology to read it aloud until his next announcement.
Nimrit and Soundarya take the punishment.
Bigg Boss gets upset with Soundarya for doing make up first instead of completing her punishment.
Bigg Boss asks Nimrit and Soundarya to read the apology fastly. Abdu and Sajid laughs.
Nimrit and Soundarya apologize to Bigg Boss too.
3:30 PM: Stan asks fans to support him. Abdu asks Bigg Boss to forgive Nimrit and Soundarya. Sumbul says if he is feeling so bad than he can join them.
Shalin ask Gautam to beware of Sajid, Shiv, Abdu and Stan. Gautam understands Shalin.
Sajid asks Abdu how Guatam and Shalin became friends again.
Bigg Boss forgives Nimrit and Soundarya for speaking in English. Nimrit and Soundarya decide to speak in Hindi only.
Archana asks Soundarya and Gautam to speak in Hindi to make audience understand their love
5 PM: Bigg Boss explains about Nomination task. He says two pair will discuss and nominate the one person from other pair.
Bigg Boss asks Archana to directly nominate one contender as she is a captain. Archana nominate Gori.
Task start with Tina and Nimrit.
5:15 PM: Tina and Nimrit are asked to nominate one among Shalin and Gautam. Shalin and Gautam try to prove themselves more worthy.
Sajid predict Nimrit and Tina will nominate Gautam. He adds Shalin has a convincing power.
Nimrit decide to nominate Shalin. Tina goes against Nimrit. Bigg Boss asks Nimrit and Tina to decide fast. Tina and Nimrit nominate Gautam after the discussion.
5:45 PM: Tina and Nimrit ask Shalin to be loyal to them in the game ahead. Archana says to Shiv that game is on.
Gautam decide to support Soudnarya. Archana says Gautam and Soundarya are having each other's back. He says Nimrit is strong in herself.
6 PM: Bigg Boss calls Tina and Shalin. He asks Tina if she regret her decision. Tina says she is feeling bad for nominating Gautam. Bigg Boss exposes Nimrit and says she wasn't ready to nomainte herself for Shalin or Gautam. He asks Tina to think over it.
Shalin asks Tina what he feels about Gautam. Tina says Gautam will go to any extent for the game.
Gautam tells to Soundarya that Tina gave the reason that KaranJohar called him fake thus she nominated him.
6:15 PM: Sajid and Abdu enjoys at the activity area.
Bigg Boss asks Ankit and Nimrit to come to the activity area. Sajid and Abdu are asked to nominate one amid Nimrit and Ankit. Nimrit and Ankit try to prove their worth.
Sajid and Abdu nominate Nimrit. Ankit gets happy. Sajid asks Abdu not to worry as Nimrit isn't going anywhere.
6:30 PM: Abdu talks with Stan and Sajid. He says Sajid nominated Nimrit. Gori says Sajid is telling everyone that Abdu nominated Nimrit.
7 PM: Priyanka and Shiv is asked to choose the nomination amid Soundarya and Stan. Soundarya and Stan try to prove their worth. Priyanka and Shiv argue over nomination. Both nominate Soundarya.
Soundarya says that Shiv played unfairly.
7:30 PM: Bigg Boss talks with Priyanka and Shiv. He says Priyanka is right that Shiv took the decision on personal basis. Bigg Boss asks Priyanka if she has to choose between Nimrit and Ankit, what she would have done. Priyanka says she would have saved Ankit.
7:45 PM: Tina and Gautam argue post latter claim she took unfair decision.
Tina says to Gutam that she was ready to nominate herself but Nimrit wasn't.
8 PM: Soundarya and Shalin are asked to nominate one amid Shiv and Sumbul. Shalin decide to nominate Sumbul.
Soundrya support Sumbul. Shalin and Soundarya decide to save Sumbul over Shiv.
8:30 PM: Sumbul gets angry on Shalin for trying to save Shiv. She talks with Priyanka. Shalin tries to talk with Sumbul. Sumbul ignores Shalin.
Sumbul and Gautam are asked to nominate one amid Priyanka and Abdu.
Sumbul and Gautam nominate Abdu.
8:45 PM: Sumbul asks Abdu if he is angry with her. Abdu says he is fine. Bigg Boss asks Sumbul if she regret her decision. Sumbul apologize to Bigg Boss.
9 PM: Ankit and Stan are asked to nominate one between Tina and Sajid.
Ankit and Stan nominate Tina.
9:15 PM: Abdu gets upset about his nomination. Tina and Shalin boosts Abdu's morale.
Abdu talks with Sajid. He says Priyanka made a statement that he isn't playing by his own.
9:30 PM: Sajid, Shiv and Abdu feel bad about Abdu.
9:45 PM: Abdu talks with Shiv. He says he will not spare Priyanka. Shiv, Stan cheers Abdu. Shiv and Gori gets emotional. Abdu asks Gori and Shiv not to cry
Shalin asks Sumbul to give him 5 mins and talk with him. Sumbul refuse to talk.
10:15 PM: Abdu complaint Stan, Sajid and Shiv that Priyanka wasn't allowing Ankit to cook chapatti.
Stan says Abdu will show his game. Sajid tries to make Abdu not to change his lovable personality for the game.
Shalin asks Tina and Gautam to move on and reconcile.
11:15 PM: Abdu gets angry on Sajid for supporting Ankit and Priyanka. Stan feels Abdu.
Abdu goes against Sajid. Sajid asks Abdu to calm. Sajid gets angry on Sumbul, Ankit and Priyanka. [Episode Ends]
Also Check: