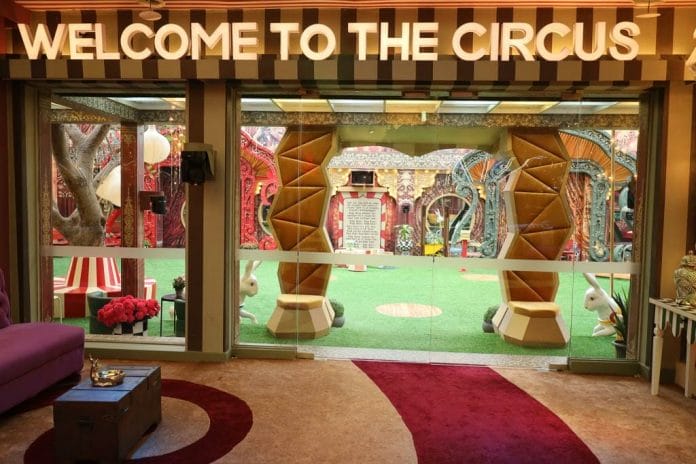 Bigg Boss 16 27th October 2022 Written Update on TellyExpress.com
Today's episode started with Day 26 at 8 AM: Inmates wake up and sings Bigg Boss anthem in chorus.
9 AM: Gautam looks for milk. Priyanka says Soundarya give upon milk. Soundarya says few others also did.
Archana and Shalin discuss about the milk. Tina hugs Shalin.
11:30 AM: Abdu tells to Shiv and Stan that Tina and Shalin was hugging each other. Shiv and Stan enjoys.
Abdu enacts Tina and Shalin.
12:45 PM: Sajid tell to Abdu that Nimrit's relatives are in Dubai. Abdu tells Sajid and Nimrit about his fan following in Dubai.
1:15 PM: Abdu says to Priyanka that if she wants to talk with her family than she has to give him 100 bucks. Priyanka tries to negotiate. Abdu refuse to send Priyanka to make a call instead asks Nimrit to go.
1:45 PM: Gori, Abdu, Shiv and Nimrit dance together.
2:15 PM: Archana asks Abdu to help her in peeling off garlic. Shiv laughs.
2:30 PM: Archana asks Priyanka to not fill jug to make dough. Priyanka asks Archana not to interrupt always. Sajid talks Nimrit and says Archana and Priyanka will have a big fight one day.
Archana and Priyanka arges.
2:45 PM: Shalin tells to Soundarya and Gautam that Niimrit changed her side.
Shalin tells to Gautam and Soundarya that Shiv and team is replacing Gori with Nimrit. He says he is speculating.
4 PM: Sajid reads about girls and boys hostel talk. Archana and Sajid becomes the warden of the hostel. Nimrit, Abdu, Shalin-Tina, Ankit-Priyanka, Soundarya-Gautam, MC-Stan-Sumbul and Shiv-Gori team up for the task. The winner will get a special right at the end. As per the task if there is no winner than Archana and Sajid will get chance to make a decision.
4:30 PM: inmates try to convince Sajid and Archana to side them.
4:45 PM: Sajid and Archana decide to make Ankit and Abdu win. Archana decide to make Sumbul and Stan win.
Task starts at 5 PM: Sajid does a comedy with Ankit.
Bigg Boss asks girl to practice dance. The winner can get a chance to earn the ration. Bigg Boss asks Archana to take a decision.
Nimrit, Priyanka, Soundarya, Sumbul, Tina and Gori try to impress Archana. Archana make Tina win and give her milk. Gautam asks Soundarya if she earned anything. Ankit says Soundarya lost her respect post talking with him. Gautam says he didn't ask for his special comment.
5:15PM: Sajid gives a chance to Ankit and Abdu to speak over a call.
5:30 PM: Priyanka tries to convince Archana to let her make a call. Ankit tries to convince Sajid to make a call. Sajid and Archana decline the request.
Sajid allows Shiv to speaks to Gori.
Sajid next allows Sumbul and Stan to speak with each other.
6: 30 PM: Bigg Boss gives body building competition activity to the boys of the boys hostel. He asks Sajid to declare the winner and give ration.
Task started with Shiv and ended with Abdu. Shalin wins the task.
Bigg Boss ends the task. He asks Sajid and Archana to take over the ration or they can distribute it too.
Tina and Shalin say Sajid was partial in the task.
Archana and Sajid decide to distribute to ration. They both shuffle the room of the inmates.
Tina and Shalin say Soundarya and Gautam will do a romance as they are given same bed. She further hides avocados in Soundarya's jacket.
8:15 PM: Tina, Sumbul and Shalin argue over onion. Sumbul refuse to take Tina's help in chopping onion. Shalin and Tina ask Sumbul to use onion in a limit.
Shalin share with Tina that he feels bad. Tina asks Shalin to go and comfort Sumbul.
9:15 PM: Nimrit read a task hunk blockbuster task. Girls of the house have to impress men.
Task starts. Shiv and Abdu decide to make Nimrit win.
9:45 PM: Nimrit, Tina, Priyanka, Archana tries to impress men.
Nimrit wins the task
10 PM: Tina gets upset as Shalin didn't support her in the task. She breaks down in front of Nimrit.
Abdu tells to Shalin that Tina is upset. Shalin tries calm to Tina. Tina refuses to talk with Shalin. Shalin says to Gautam that he has a reason to do whatever he has done.
Gautam and Nimrit talk with each other to clear their misunderstanding. He tells to Nimrit that Gautam and co are not loyal.
Gautam and Nimrit patch up.
12:30 AM: Abdu tells to Sajid, Stan, Gori and Shiv that Bigg Boss is smart. He explain the reason.
1 AM: Archana asks Shalin if he likes Soundarya. Shalin refuses. They bet on who will get evicted this week. Shalin takes Gori and Gautam's name. Archana vote for Tina and Nimrit. [Episode Ends]
Also Check: