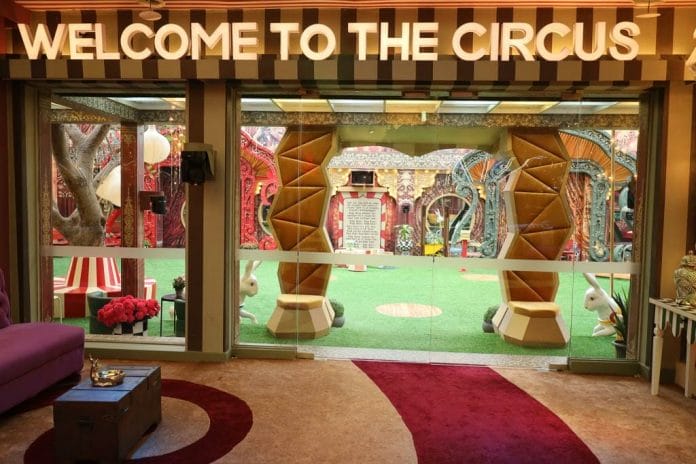 Bigg Boss 16 26th October 2022 Written Update on TellyExpress.com
The episode starts with housemates singing Bigg Boss anthem. Archana gets frustrated with her Captaincy and complains about it to Nimrit. Whereas, Shalin talks to Abdu and ask if he is okay with the nominations. The latter shows his disappointment towards Gautam and Sumbul for nominating him.
Archana instigates him to fight with the ones who nominated him while Shalin ask her not to do it. Meanwhile, Archana ask everyone to do their duty. Priyanka gets mad at Archana for not controlling the housemates properly.
Meanwhile, Sumbul gets into a conversation with Shalin. She ask Shalin to not test her again and again, while he gets irritated by her behavior and states that he felt hurt by her decision. He then decides to end their conflict and both gets into a normal conversation.
Priyanka tells Abdu that he should start taking his own decisions. She proclaims that Sajid is taking his decisions and gives him an advice to take a stand for himself and not to listen to others. Whereas, Archana talks to Shiv about Abdu. They then advice Abdu not to hear anyone else and do what he wants.
Sajid instigates Abdu against Gautam and ask him to make a vote appeal against the latter. He tells that audience loves him and will nominate Gautam out. Abdu gets influenced by Sajid and ask audience to take Gautam out.
Shalin stands with Tina while Archana passes a comment on them. Gautam gets furious at Shalin and ask him to make his own stand. He says that he keeps changing himself and gives an advice to him. Shalin says that he really feels in love with Tina, while Gautam ask him not to fake his feelings.
MC stan talks to Abdu, while Shalin gets into a conversation with Sumbul and says that he is happy to get all the compliments after coming into the show. Meanwhile, Gautam talks about Shalin with Shiv and proclaims that he is playing a game. They makes fun of him and laughs.
Abdu talks to Sumbul and shows his anger towards her for nominating him. She tries to clarify her intentions and apologises for her mistake. Afterwards, Shalin talks to Tina about his feelings and ask if she feels he is genuine? To which she replies positively and ask not to hear Gautam's advice. She ask him yo play their game separately.
Nimrit picks the call while Bigg Boss ask to give the phone to Archana. He frees her while she gets happy after getting out of Captain's chair. Nimrit sits with Shiv while Abdu comes in between them.
Bigg Boss makes an announcement and scolds Archana for her behavior as a captain. He then frees her from the punishment and tells a procedure to select the new captain. He removes Shalin from the Captain's list.
Afterwards, everyone makes a line to sit in the captain chair to become the captain. Shiv sits on the chair while Bigg Boss talks to him. Bigg Boss ask Nimrit to sit below the Shiv's chair. He ask her to read the grocery list while Shiv hears it. Bigg Boss gives several grocery items to Nimrit and ask her to choose in between grocery for the week or Shiv as the captain. Shiv tries to convince her while Tina and Gautam states that Nimrit should choose the grocery.
Nimrit gives the opportunity to Shiv to become the captain and then leaves the activity area. Bigg Boss announces the grocery list and proclaims that Nimrit left all of it to give the chance to Shiv to become captain. Shiv also comes out and Bigg Boss ask him to come inside again when he will call him.
House mates mocks Nimrit for choosing Shiv over grocery. Gautam confronts Nimrit and both gets into an argument. House mates keeps commenting upon Nimrit's decision while Shiv and Nimrit tries to clarify. Priyanka gets angry at Nimrit for her choice and both gets into an argument.
Priyanka decides to always select grocery over the captain and proclaims that she won't give the grocery to Shiv and Nimrit. Bigg Boss calls MC Stan inside activity area and Shiv tries to convince him to choose over grocery list. He takes the grocery over Shiv's captaincy. Soundarya worries about her vegan food.
Shiv gets out of Captaincy task while Gautam gets the chair in second round. Bigg Boss calls Soundarya inside the activity area and she chooses Gautam's captaincy over grocery. They comes out of the activity area while Priyanka makes a plan to act in front of Shiv and his friends.
Bigg Boss states that he is enjoying the game. Priyanka ask everyone to choose grocery. Shiv and MC Stan talks to Abdu and convinces him about their plan. Bigg Boss calls Nimrit inside the confession room and says that house mates are being partial towards her. Priyanka ask Gautam to take grocery over anything else.
Meanwhile, Nimrit confronts Soundariya and talks about Priyanka's partiality towards her. Bigg Boss teases Ankit and makes him do some fun tasks. Housemates enjoys the fun while Ankit goes inside the activity area. He chooses grocery over Gautam's captaincy chair. Priyanka gets excited hearing Ankit's decision.
Bigg Boss ends the task and no one gets selected as the Captain. He then tells about the grocery list and ask Archana to remove her stuffs from the Captain's room.
Priyanka gets into an argument with Nimrit. While, housemates decides whether to share or not the groceries with one another. Bigg Boss troubles Archana and ask her to empty the room in 10 seconds. Everyone comes to help her and laughs at her situation.
Soundariya gets mad at Ankit's decision as he didn't selected Gautam over grocery. Abdu sings a song for Priyanka while Shiv laughs. Ankit ask about the option that housemates wants to distribute the grocery or not. Priyanka and Ankit keeps confronting Nimrit about her decision of leaving grocery over Shiv's captaincy. Gautam and Nimrit gets into an argument.
Nimrit gets hurt by Gautam's words and talks to Soundarya about it. She gets mad at Gautam as he scolds her for sacrificing Shiv. Gautam, Nimrit and Soundarya gets into a fight. Whereas, Shiv and Priyanka also gets into an argument. Ankit tries to stop them but they continues their fight.
Tina comes to talk to Tina. Shiv and Gori makes fun of Ankit as he doesn't speak his thoughts. Gautam talks to Archana about Nimrit. Abdu goes to console Nimrit and she clarifies about her decision. Gautam helps Soundarya to walk while MC Stan and Gori makes fun of them.
Nimrit goes inside Gautam's room and talks to him about their misunderstanding. Whereas, Archana gets into a conversation with Priyanka and states that Gautam is coward. She proclaims to nominate him to make him brave, while Priyanka laughs. Meanwhile, Soundarya instigates Gautam about Nimrit and says that she is trying to be another Sumbul. She states that Nimrit won't be able to survive without him while he agrees to her.
The episode ends.
Also Check: