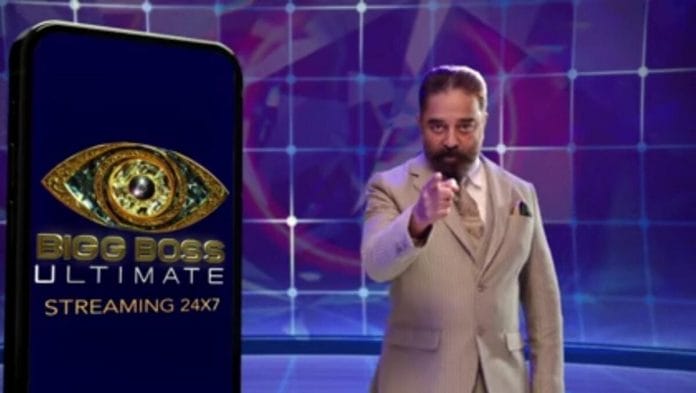 Bigg Boss Ultimate Tamil 3rd February 2022 Written Update on TellyExpress.com
The show begins in Day 3 at 8.00 am, Morning wake up song plays at the house housemates starts dance for the song " Adi poli" and greets each other.
At 11.25 am, Housemates are arranged in activity area for press meet. Anitha says to Shariq that everyone getting chance to Bigg Boss is not a easy one because they wanna do something in particular field or has fame to enter here. But Shariq enters into Bigg Boss without this because he is a celebrity kid. What he is thinking here as plus and minus? Shariq asks to Is she a reporter? She nods to him. He asks her to show her Identity card to him. She tells him she forget to bring it. Everyone laughs hearing it. Balaji asks him to answer to it without diverting her. He says to them that he came here as a celebrity kid but he don't like to use his family name to anything. He wishes to stand in his own leg without using his family name. He is still doing like that only. In last one year he is staying alone came out of his house to pursue his dream. His friends used to be like him so he wishes to stand in his own leg like them. They knew it celebrity kids gets chance to act in film for their family name he really don't like that. He is following that only.
Balaji asks to Shariq may his friends or family advised to him or asked him to perform like this inside Bigg Boss but he got evicted in the middle right? Is he feel bad for not fulfilling their words. Shariq tells him definitely he felt bad on that day. He came inside the house with a plan after watched the first season but he couldn't follow that game plan because he was younger compared to all there. He has no maturity at all on that time so he forgot to play his own game seeing others maturity level there. He understanding was different in the season. He felt so bad after he left. Abirami asks to him doesn't he said he don't remember much happened in his season Is he remind something now? He simply eats banana there. Abirami tells him that he is insulting Press like this so she wanna say it to Bigg Boss. Suresh says he insulted lady press reporter. Abirami asks him to let her complete her questions he nods to her.
Abirami asks to Shariq what did he done after became a captain of the house? Shariq answer to her that he didn't done much because all are happy here only two days left. So he left them free but there is one meeting after this press meet. Abirami asks to him Is he planned this now? He tells her its pre-planned one. Snehan says that he missed two days. As a captain he failed to control all. He says to him that he tried his best but many are not listening to him here. Suresh asks him to give the list whom not listening to him. Shariq says to him that he will reveal it when time comes. Snehan asks to him Is he don't know the value of this position because he got it easily? May he know it values when it's a tough competition. Shariq says it seems like that. But he will change it soon. Balaji says only two days left. He tells him there days are they. Suresh teases him as he is weak in maths.
Sruthi asks to him doesn't he lost the opportunity last time then why is he taking this captaincy easily? He tells her he is not missing the opportunity. She says that only three days left but he already wasted his chance two days why he gonna prove now? He asks her to take his position and show him what she gonna do? Sruthi says Is there any rules like that? Shariq says he is applying this new rules as a captain he can able to do it. Snehan asks to him will he nominate himself and cancel Sruthi from nomination? Why don't he asks to Bigg Boss about it? He nods to him. Sruthi says to him when she get a chance she will prove it to him after become a captain now she don't need his position.
At 12.45 pm, Bigg Boss announces task first round over. Now stars can become press and able to questions the previous press because they will turn to stars now. Suresh is advise to stars there and pretends like they are gonna attend the real press meet and creates a drama there to show them busy shooting spot. Press people are interacting with them in triggering way. Buzzer plays, press people asks Thadi Balaji to attend the interview. Press people introduces themselves to them. Bala asks to Balaji doesn't he the only comedian in this show them who are they accompanying him? Suresh says he is touch up to him. Vanitha asks to him who is he why is her interrupting? He asks her to stop taking in English. She says to Balaji that only he wanna answer when they are questioning him not his touch up. Bala asks to him last time he came with his wife now with them? Why is he not coming alone? Abirami complaints that its a wrong statement she can't able to accept it. Bala questions her what did he mentioned wrongly here? Suresh asks to them Is they treat like this to stars? Vanitha asks to him who is star here? They are not behaving like stars actually. There was an heating arguments there Snehan says let's start the interview later. Vanitha complaints that there is no decorum to them. Sruthi says to Bala that Abirami misunderstood that he mentioned Abirami as Balaji's wife. Bala says that he Mentioned Suresh not her. He can't able to do anything if she take it as wrong. Bala adds that they are trying to do character assassination here. Sruthi says that she didn't done it but standing for her because she felt offended. Bala argues with her even Vanitha and her team Supports Bala and clears his statement to them. Bala says that he said it as a common thing why should she get offended for it? Abirami says that she has problems with Bala so only he needs to answer her not others. She apologies to Bala for misunderstanding him and explains Sruthi's side to him.
At 1.25 pm, Vanitha asks to Balaji he is participating in this show second time what's his mentality now? He says to her that he used to adapted with the situation and he is here to entertainment all till the end. Bala asks to him Is he don't need this title then why don't he give the chance to others? He says to him that he is not here to win the title but he is her because they invited him. They invited him second time he is thinking it as pride. Niroop asks to him why don't he give his chance to the desrved person? He says to him its management decision what will he do? Whom knows may he win the title too. Niroop asks to him doesn't he controlled his anger in last season because he came with his wife? Is he controlling his anger now too? Or wearing mask? He says to him that he changed his character a lot after this show.
Suja asks to him who is his comfortable person inside the house? He says to him that he is comfortable with all and he is making fun with all here. He is saying everything in a flow he is not trying to hurt them or keeping anything in heart too. Basically he likes one person a lot here because he got disappointed seeing his season and met him outside too later he understands its his character so he likes Bala a lot. Thamarai asks to him Is he thinking he is hurting others with his comments? He says to her that he is not saying anything from his heart if he hurts her then she can say it clearly to him. She says that she said it common. Balaji says that he knew most of them here so they won't take his jokes as seriously. July asks to him Is he win the title will he share his winning amount with her? He says to her that he will definitely give small amount to her for kids education. Thamarai asks to him will he share the money to her also? He nods to her.
At 2.35 pm, Shariq says to housemates that he appointed 3 persons to cook in kitchen except them no one should use the kitchen reasoning its looks so clumsy and disturbing to them. They should not talk in English.
At 2.40 pm, Vanitha says to Suresh that he reacted too much there because he behaved worst. Suresh says that he was acting there. Vanitha says to him that she didn't interrupt him and he was acting weird there. Suresh says that he done a task there she shouldn't talk like that here. Vanitha asks to him will he treat media people like this? Suresh says that when she is right others are wrong here. Vanitha asks him to stop assassinating her character to show off here. It's wrong to use her personality here. Both gets into a heating argument there. Shariq tries to solve the issues there.
At 3.10 pm, In press meet, Press people welcomes Anitha. Bala asks to her doesn't she a journalist how many person faced tough questions of her. She says to him not many. July asks to her when she sang the vijay TV copyrights song she said it will telecast on TV. She is calculating clearly which comes in promo and which is content? Is she seeing everything here with a calculative mind? Anitha says to her that she said to her that she specially mentioned it for her! Vanitha asks to her doesn't she cried a lot in last season but here she is not outspoken and being a spectator not involving in many problems? She says to her that she couldn't go to finals because of her emotional imbalance. Bala asks to her doesn't she said she don't wanna go to his team because she wanna question Vanitha? He feels she is choosing selective person to get fame and playing a safe game. She gives her anger to it. Vanitha appreciates her calculating mind and says she is fully planned.
At 4.25 pm, Abhinav is attending the interview. Suja says to him that she met him many times as a press. Is he ever thought he is not a straight forward person? He says to her that he wished to save some people so he didn't open up many things its his mistakes so he is not straight forward on that place. Niroop asks to him doesn't he said his name got spoiled? He says to him that he never said like that and he don't wanna discuss about that topic. It was past he don't need to dig it again. Thamarai asks to him what did his wife advised to him when he came to this show? He says to her that it's unnecessary questions he don't wanna answer to that. After him they takes interview to Sruthi and Abirami.
At 11.50 pm, All lights turns to off in the house. Housemates goes to bed to sleep.
Episode end.
Click to read: