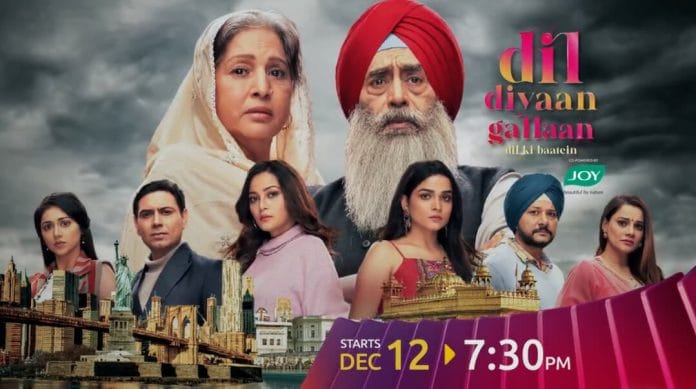 Dil Diyaan Gallaan 10th January 2023 Written Update on TellyExpress.com
The episode starts with Amrita getting shocked to know Randeep is her uncle. She recalls how Maan told her about Randeep that he is a funny person and makes every sad person laugh. Amrita wanted to meet him one day. At present Amrita goes towards Randeep happily and gets emotional. She says namaste to Randeep and Nimrit. He says they just met in the market. Nimrit asks her from where she belongs to. Veer lies to them about Amrita and Nimrit asks him to find a job and buy his own house. Randeep assumes Amrita left home due to Dilpreet's anger. Amrita takes Ria to room and there Veer gets busy talking to Harneet.
Amrita gives Ria her passport and the latter gets furious at her. Ria asks her if she told Veer about their argument. Amrita says she didnt as it's their secret. Amrita says she genuinely wants to help Randeep so she will take Maan's signature on the NOC. Ria asks if she is trying to be great just like Maan sent money to Dilpreet's account to become great. Amrita shuts her up saying his father will never do something to hurt his father. Harneet advises Dilpreet to talk to Maan as Kushwant put such a serious allegation on him in front of everyone. Maan needs to clarify the whole matter to which Dilpreet says he will never talk to Maan again. Harneet gets annoyed and asks Randeep to call Maan.
Amrita apologises to Ria for shouting at her. She says if they met in normal circumstances then they would have met like sisters. Amrita then gets upset seeing the black poster of her father. Ria gives her a cold drink to reduce her stress. She says Veer brings them for her and he is her best friend. Amrita takes the drink and they sit together. Ria apologises to Amrita for her behaviour. She says they would have become good friends if they met normally. Amrita says one thing would never change that is their love for their fathers. Ria says she is facing all these issues since childhood and her father suffered the most. Randeep hesitates to talk to Maan and in flashback Randeep and Maan get questioned by Dilpreet who ate the chocolates in childhood. Maan reveals he ate them by mistake and the brothers get punished. Maan tells Randeep to leave but the latter says he won't leave him alone.
Randeep thinks he didn't talk to Maan for so long so how he can call him all of a sudden. Amrita says all are dealing with their own stories. Ria wants to solve her father's issues, Maan is suffering in Amrita's story and now she is fighting for him. Ria teases Amrita and she says Amrita came all the way from America by spending huge amount of money but she doesn't have the status to pay the fees even. Ria says Amrita is living her life happily to which Amrita smiles at her. Veer stops Randeep from talking to Maan. He says Dilpreet should start the conversation with Maan today. What if the ice breaks after all these years between them. Randeep supports him and Veer hopes for the best.
Precap- Veer gives the phone to Dilpreet to call Maan. Dilpreet agrees saying he will clear everything today. Veer calls Maan and the latter thinks if his family called him
Click to read